Written by Shi-Huai Lin & Mei-Yan Wu Chen
Translated by Jeff Lu Proofread by Jennifer Ying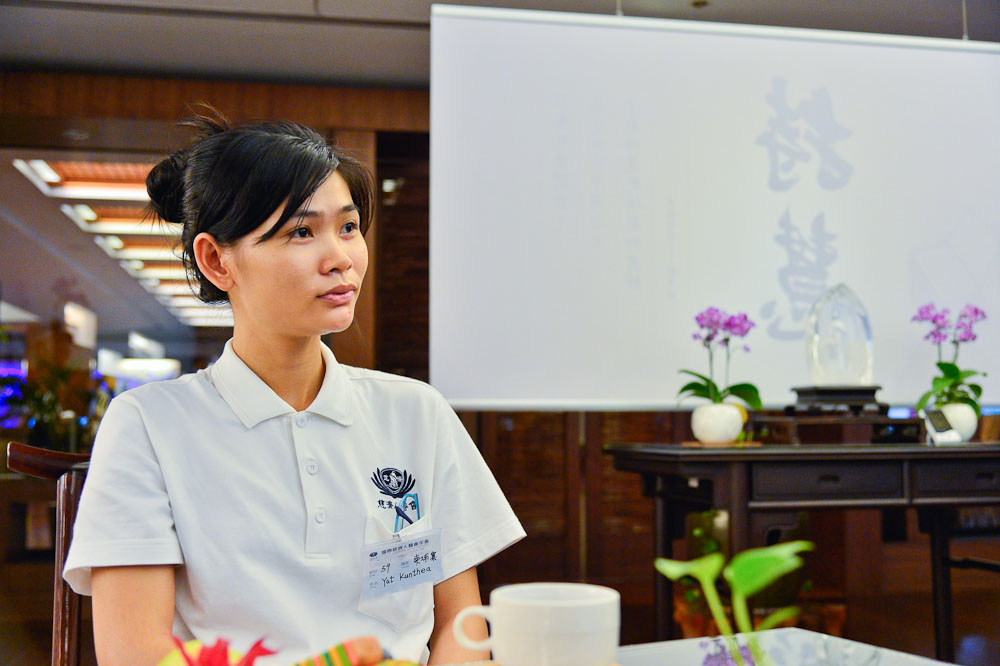 Cambodian TIMA member Yat Kunthea, though young, has been running a pharmacy of her own for many years. It's worthwhile to spend holiday time here in TIMA courses that are intellectually stimulating and perceptive. Photographed by Ming-Da Ou
Cambodian pharmacist Tek Seng Somnea is visiting Taiwan for the first time. She was deeply moved while attending the TIMA Convention in Kuala Lumpur, Malaysia in March 2017, hence, she took the initiative to register for the 2017 TIMA Convention in Taiwan. She is hoping to learn more from the Convention and brings them back home to help the colleagues in Cambodia where the medical resources are relatively scarce.
"The two classes in the morning of the first day (October 3rd, 2017) were really touching", said Yat Kunthea. "In Cambodia, we don't have real bodies available for surgical practices. Cambodian medical students can only use mocked body gadgets instead, that is very different. To medical students, learning from silent mentors is really amazing. " Though Yat Kunthea is a pharmacist, her heart still vibrated to the speaker, Dr. Chung Ming Chang's sharing on surgical simulation.
Yat Kunthea, age of 26, has been running her own pharmacy for many years. She met Tek Seng Somnea at a pharmacist training course, they became good friends afterwards. Though they had heard a lot about Tzu Chi medical activities, they did not have chance to join until they attended the 2017 TIMA Convention held in Malaysia. They seized the opportunity to join TIMA convention.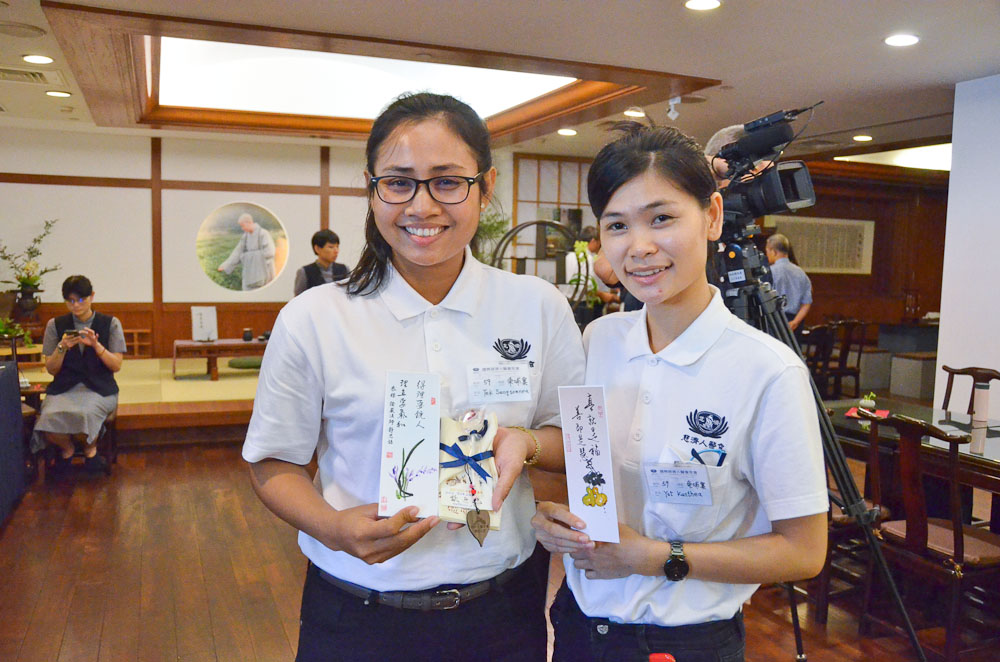 Tek Seng Somnea(left)and Yat Kunthea(right)inviting each other to join TIMA. With their medical proficiency, they vowed to spread love to those who in need.
Somnea also joined the Singapore TIMA's mission, giving free clinics to Cambodians every month. During each visit to patients, Somnea was impressed and moved by the sincerity of the TIMA members in treating patients. "It's really a pleasure being able to help others." said Tek Seng Somnea. She would like to join the free clinics conducted by the Philippine TIMA in October, 2017.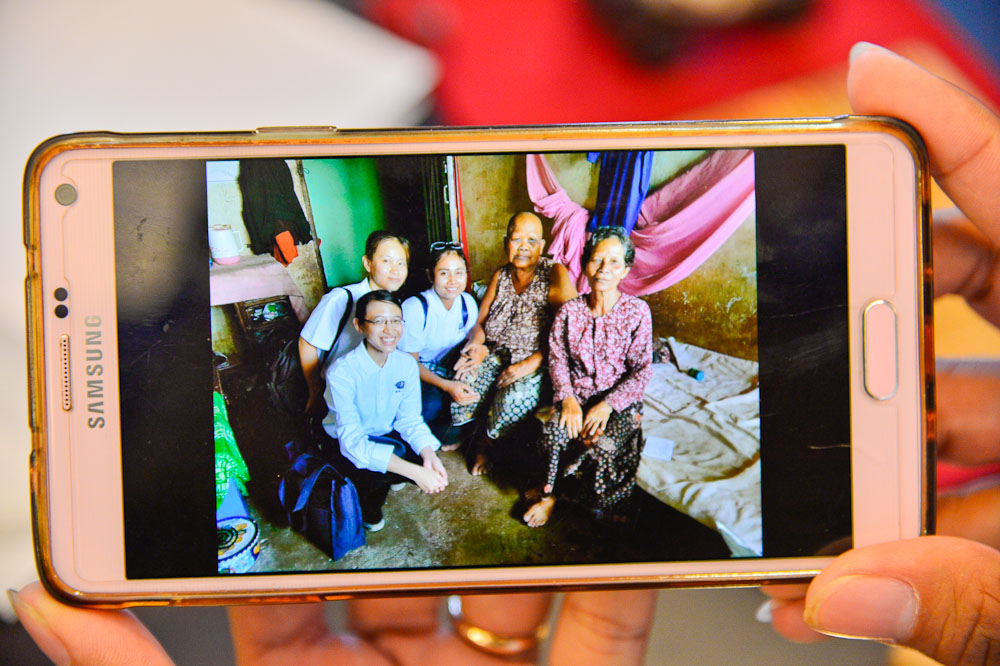 Tek Seng Somnea (middle), showing photographs of her visits to the patients during the mission conducted by the TIMA(Singapore)."It's really a pleasure being able to spread out the love." said Tek Seng Somnea. Photographed by Ming-Da Ou
Silent Mentor is a term totally new to Tek Seng Somnea and Yat Kunthea. In the first place they thought the bodies for surgical practices are bodies of unknown origin, beyond their wildest imagination; they learned that some people are willing to allow medical professionals or students to do the surgical simulations on their remains. They found that some medical majors become more dedicated after being enlightened by their silent mentors. These made them admire the silent mentors more profoundly.
Having learned a lot of new contents joyfully from Tzu Chi, Tek Seng Somnea and Yat Kunthea felt that it will be a fruitful journey and are certain to learn more in the next 4 days.
"The cordial warmth from Tzu Chi is unforgettable " said Tek Seng Somnea and Yat Kunthea. Tzu Chi will guide them to march on, and they will do their best to devote time and energy to join more Tzu Chi missions.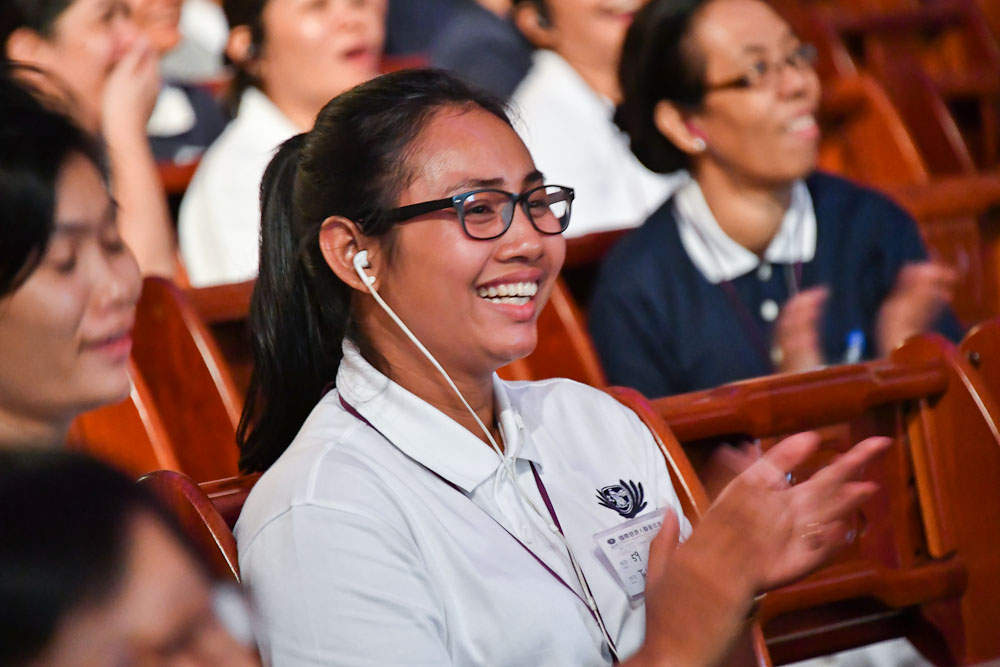 In addition to the touching TIMA anecdotes from the lectures, there were also affectionate sharing led Cambodian attendee Tek Seng Somnea to show her praise with applause. Photographed by: Dao-Yang Wen