Written by: Tsai Chong-Chun Photographer: Ou Min-Da
Translated by Lin Min-Chen Proofread by Lin Hsiuhsu(林修旭)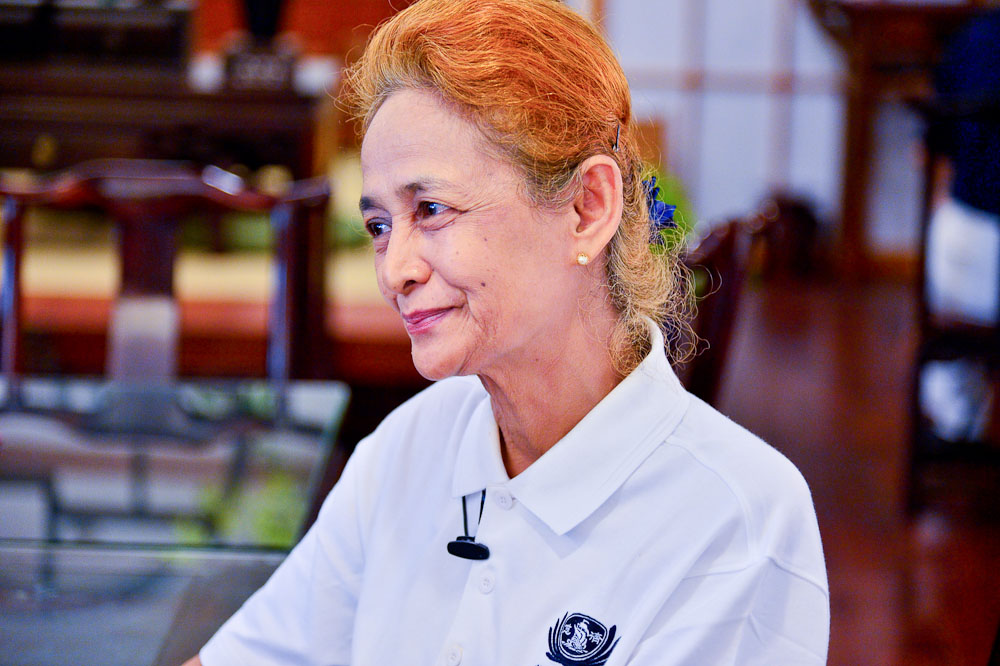 "We are all healthy. Do what you have wanted to do. Go! Don't worry [about me]. We don't have kids, though; we will get affinities with many a child from your clinical missions. They will take care of me [in the future],"recalled Dr. Kin Mar Thu (金瑪茹) from Myanmar the wish her husband had for her before coming to Taiwan for this year's TIMA convention.
A Determined Mind to Safeguard Rural Healthcare
Dr. Khin Mar Thu, 70, from Myanmar, was born to a well-off family. She had been very successful through elementary to medical school. While she was in medical school, she had made up her mind to practice medicine in rural Myanmar. The Burmese frequently did not see a doctor for illness, and the remote areas were, and still are, denied by medical care and suffered poverty and illness. Thus, she was determined in devotion to medical care in rural areas.
Doctor Khin has practiced medicine for 28 years, during which years she has been a dedicated doctor to free clinics. She was doing well in taking care of her family, practicing medicine, and engaging in volunteer jobs at the same time. However, in 2003, her husband suffered from a cardiovascular disease; she could not but withdraw from work to take care of her husband. Still, she managed to engage in free clinics when she was called upon for help.
On May 2nd, 2008, Najibs, a strong tropical cyclone, devastated many provinces in Myanmar. And Tzu Chi responded immediately to provide relief to the disaster."I have known Tzu Chi from TV for a long time. Yet it was not until Mar this year, through the introduction of a local Tzu Chi volunteer, that I participated in my first free clinic with Tzu Chi in Bugu," recounted Dr. Khin on her affinity to Tzu Chi. Bugu is located in southern Myanmar, about 50 miles away from the capital of Yangon.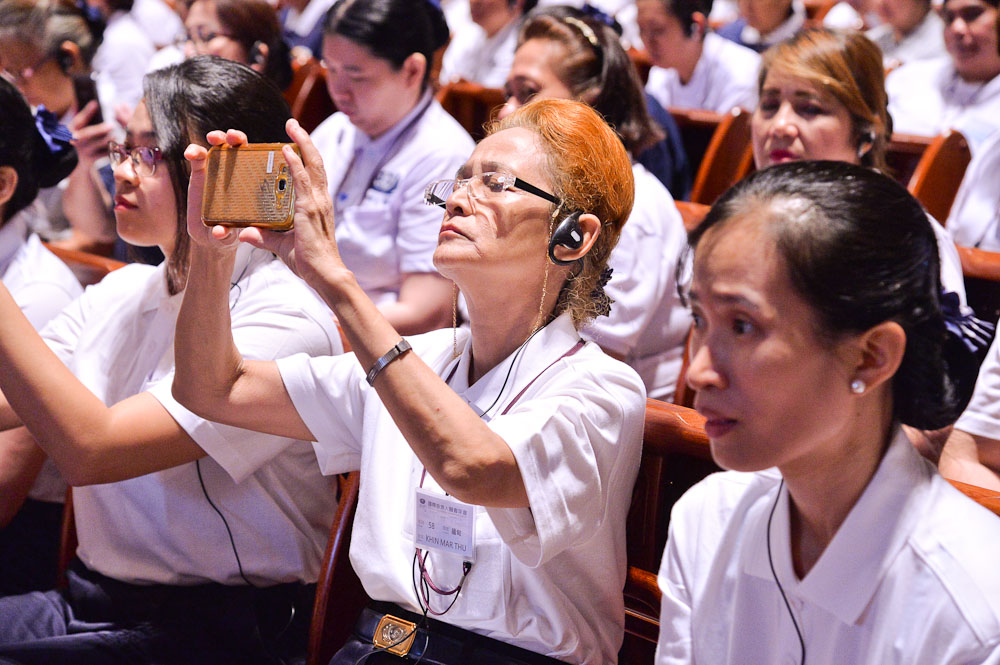 "You cannot wait to do good deeds," said Myanmar doctor, Khin Mar Thu, who vowed to not only offer free clinical services, but also to expand her love to the needy through more homecare services to the rural and remote areas.
Rice Bank: Rice Back
According to Dr. Kin, she knew that Tzu Chi was active in Yangon area. Where she lives is 70 miles away from Yangon. It's not convenient to travel around. So she had to ask people what Tzu Chi was doing. Dr. Khin said, "There is a physician in Tzu Chi, who is also a TIMA member now. He shared his free clinic experiences frequently. Therefore, the free clinic was arranged in March in Bugu."
"Sometimes when we are planning a free clinic in a remote village, the trip will be bumpy. To make it worse, it is remote and hard to reach. And therefore, it's hard to invite a doctor to join the mission. If this is the case, I will volunteer to join the mission," said Dr. Khin, adding that she would share the "a handful of rice" (一把米) story with the kids (during the free clinic). "Even if we are poor and have no money. We can still save a handful of rice every day to help others in return."
After a day's class, Dr. Khin felt that the love Buddha had 2500 years ago is like that of Master Cheng Yen's nowadays. "When I treat the patients, I treat them with the respect I have for Buddha. I try very hard practicing gratitude, respect and love in daily life.
Sustaining Charity: Responding to the Needy
Dr. Khin shared that medical service is a doctor's calling; she is not just practicing medicine. She said: "I will promote 'a handful of rice', and the idea behind it. It makes possible for the poor to do good deeds by giving back the small amount of rice received. Through today's classes, I have learned the 4 missions of Tzu Chi, i.e. charity, medicine, education, and humanism. The 4 missions can be done at the same time; mission of medicine can be accomplished through coordination of the other missions."
Dr. Khin was once in a remote location for a free medical care mission. There was limited access to communication. She learned that her father was seriously ill and hospitalized. She was in a worry, and there was nothing that she could do. She came to a sudden realization that "now that there is no way of going back. The only thing that I can do is to stay calm, and do my job well."It was probably because of the blissful good will that her father survived the illness and recovered quickly.
As a result, she was encouraged and became even more determined in offering free clinical services. She said: "Good-deeds doing can never be adequate." She vowed, "I will not limit myself to free clinic services. I will carry out home caring to reach out to more that are in need.""My husband and I being Buddhists, we believe that good deeds pay off and give us more in return," added she.
Holding the "Jing Si Aphorism" in hand, she shared that the teaching---"Gratitude should be turned into actions."--- reminded her of words from her mother: "Recognize gratitude, be grateful, and pay back." She rejoiced, "'The Aphorism' of the Master has given great inspirations. The teachings are like those of the Buddha. The Buddha's teaching can only be learned from the books; Master's aphorisms can not only be read, but they can also be heard and practiced in the daily life."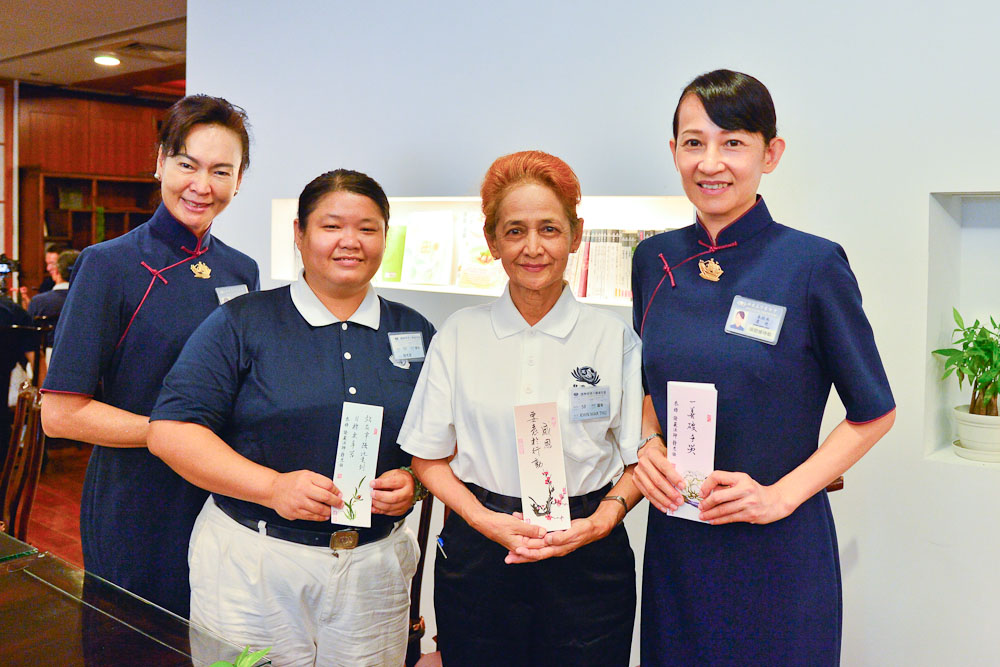 Master's aphorism---"Gratitude should be turned into actions."--- reminded Dr. Khin of her mother's words: "Recognize gratitude, be grateful, and pay back."