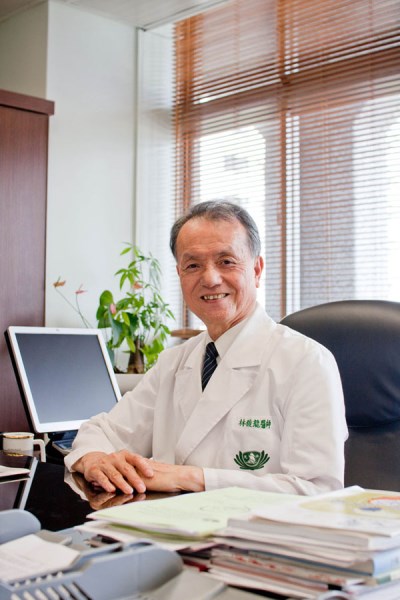 Chin-Lon Lin, M.D., F.A.C.C.
CEO of Buddhist Tzu Chi Medical Foundation
& Tzu Chi International Medical Association

In light of the inaccessibility of healthcare in Eastern Taiwan, Master Cheng Yen founded Tzu Chi free clinic on Ren'ai St., Hualien City in 1972 to serve the poor and sick, and provided medical and outreach services to the local needy population. The clinic provided a total of 150,000 services before the opening of Hualien Tzu Chi Hospital in 1986. The Buddhist Tzu Chi Medical Foundation continued to serve the population based on the same principle: "To Respect Life, To Provide Patient-centered Care".
With the efforts of Tzu Chi Foundation's Vice President Pi-Yu Lin and successive superintendents and colleagues, Hualien Tzu Chi Hospital has established a medical paradigm and being the one and only medical center in Eastern Taiwan. With the expansion of medical network in Taiwan, Hualien, Yuli and Kuanshan Tzu Chi Hospitals joined forces to protect the health of the people in Eastern Taiwan. After the opening of Dalin Tzu Chi Hospital, Taipei Tzu Chi Hospital and Taichung Tzu Chi Hospital, the western network has been formed and with same spirits. And, Douliou Tzu Chi Hospital, opened in January. 2019, has become the Seventh hospital of Tzu Chi Medical Network in Taiwan. Thus, Tzu Chi Medical Foundation with its seven hospitals in Taiwan joined by other missions of Tzuchi Foundation such as Charity, Education, Humanity, and Tzu Chi International Medical Association (TIMA), work together to serve the needy in every corner of the world, relieving the suffering with wisdom and compassion.
TIMA was established in 1998, and, with over 15,000 voluntary medical professionals and logistic volunteers in 13 countries/nations, has served more than 3 million headcounts worldwide as of December, 2018.
"Unity of the seven hospitals, harmony between the universities & hospitals, mutual love of the 'Four Major Missions', and concerted efforts of the 'Eight Footprints'", Tzu Chi Medical Foundation has a long way to go. Within the foundation, it is necessary to establish a system to achieve harmony and mutual cooperation. Outwards, it is necessary to set examples of humanistic medicine.
"Harmony between the universities & hospitals" means the tight cooperation between medical foundation and education mission. Seven Tzu Chi hospitals, Tzu Chi University (TCU) and Tzu Chi University of Science and Technology (TCUST) co-work to cultivate various kinds of medical professionals such as doctors, nurses, pharmacists, medical tech staff, and others in not only clinical services but also teaching and research.
"Be patient-centered and provide kind and warm health care" is the mission of Tzu Chi Medical Foundation. How to make every staff learn and to carry out this mission? It all starts at schools. So Tzu Chi's medical education emphasize the importance of setting examples by oneself, a teacher, besides being able to teach the theory, impart knowledge, solve problems, has to be a model to students. We are grateful that TCU and TCUST help nurture so many excellent skilled and caring medical professionals.
How to form the Tzu Chi Medical Mission' image of both medical profession and Tzu Chi humanity to show to the world? We learn from our medical volunteers who demonstrated how to care for patients and their families with love and caring, our staff take care of patients in the hospital(s) during working hours; after work, they attend free clinics and pay home-visits, join TIMA for medical outreach programs. During the process, our staff get to realize and taste the joy of being able to help others in need. Thus, thanks to the devotion of everyone involved, we will keep working hard and are very well on our way to become the model of humanistic medicine in the world.