Written by Julia Tseng Translated by Jennifer Ying Proofread by Yuaner Wu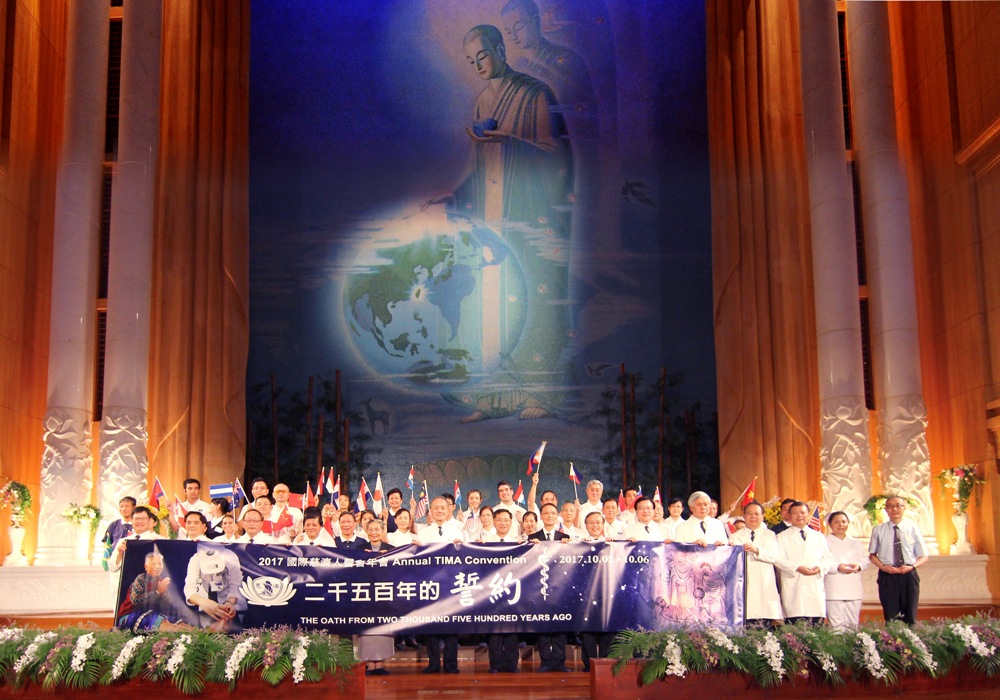 [2017 International Tzu Chi Medical Association (TIMA)] held from October 3rd to 6th, 2017 at Jing Si Hall in Hualien, Taiwan. To kick off the Opening Ceremony, doctors and nurses from six Tzu Chi hospitals in Taiwan, have made their joint efforts to perform "The Medicine Buddha Sutra" in sign language. More than five hundred medical professionals, from 21 countries and regions, gathered in Hualien to share their medical experiences and footprints of love.
More than two thousand five hundred years ago, Hippocrates, ancient Greek physician who is regarded as the father of medicine in the western world, wrote Hippocratic Oath that is still relevant and in use today as a medical ethic guide by the medical professionals. Buddha is the greatest Doctor on Earth, He vowed to relieve sufferings from all sentient. Coincidentally, both Buddha and Hippocrates lived in the same age of twenty-five hundred years ago. Today, in the spirit of their Oath and Vow, volunteers of Tzu Chi International Medical Association (TIMA) around the world providing free medical services is never left behind others.
2017 TIMA Annual Conference is using "the Oath from two thousand five hundred years ago" as its theme. The Conference was commenced on October 3rd at 8:10 AM at the Lecture Hall inside the Jing Si Hall in Hualien. Coming from 21 countries and regions, 434 attendees gathered to enjoy the documentary of the past global free medical services by TIMA in Myanmar, Cambodia, Canada, the United States, Malaysia, and among Jordan refugees. In Taiwan, Tzu Chi Medical volunteers periodically visit remote and rural areas throughout Taiwan to provide free medical services for fishermen and migrant workers; to deliver dental services for human vegetables and nursing home residents. There are always Tzu Chi Medical volunteers to deliver heartwarming medical services if there is poverty or a natural disaster.
The documentary watching was immediately followed by a performance of "The Medicine Buddha Sutra". Led by Superintendents and Deputy Superintendents of Tzu Chi Hospitals, such as Taichung Superintendent, Sou-hsin Chien; Hualien Superintendent, Hsin-rong Lin and Deputy Superintendent, Wen-lin Hsu; Dalin Superintendent Nin-Sheng Lai and Deputy Superintendents, Jin-cheng Chen and Ming-nan Lin; Taichng Deputy Superintendents, Ren-shu Wang and Shu-ting Chuang, many doctors and nurses also joined them to perform "the finale of the Medicine Buddha Sutra". In the end, Lyrics depicted "Ah! Medicine Buddha's vow, the pure and clear light of the Luili lazurite, the fragrant life of the spring, the hope of light shone on Earth, the medicine of relieving sentients sufferings, the nurturing of the wisdom life." then, a life awakening sound of bells and drums came together harmoniously. The dharma masters of the Abode led the audience standing up, and gave their salutes to the performers.
The emcee, sister Hsin-yi Hong, introduced the functional teams, Tzu Chi volunteers in Central Taiwan, one after another. In the applause of all attendees, they walked around the audience. The attendees from different countries and regions were also introduced by sequence to receive cheers. A banner with the theme of the Conference slowly unfolded, witnessed by all participants, guests, the Tzu Chi hospital superintendents and deputy superintendents as well as the Chairman of TIMA and CEO of Tzu Chi Medical Mission, Jun-long Lin.
Dr. Jun-long Lin gave his greetings to welcome participants, and thanked them for gathering at the Conference to calmly discuss how to respond to the status quo. He brought up the theme of this Conference, and said: "Buddha taught us Love and Respect that has never changed in two thousand five hundred years. Today, we are carrying out the same things, especially, in the Tzu Chi International Medical Association. Master told us that Gratitude, Respect and Love have never gone against the direction of Oath and Vow from two thousand five hundred years ago. I hope everyone of you, medical Bodhisattvas, making good use of your time at the Convention by relaxing yourself, physically and mentally, to enjoy courses during these three and a half days." Dr. Lin also gave his special thanks to volunteers of Central Taiwan for shouldering responsibilities and functions of this Convention. The opening ceremony successfully wrapped up after a precious photo was taken. It is hoped that each attendee will receive a full harvest at the end of the Convention, and bring more people to 2018 TIMA Annual Conference next year.