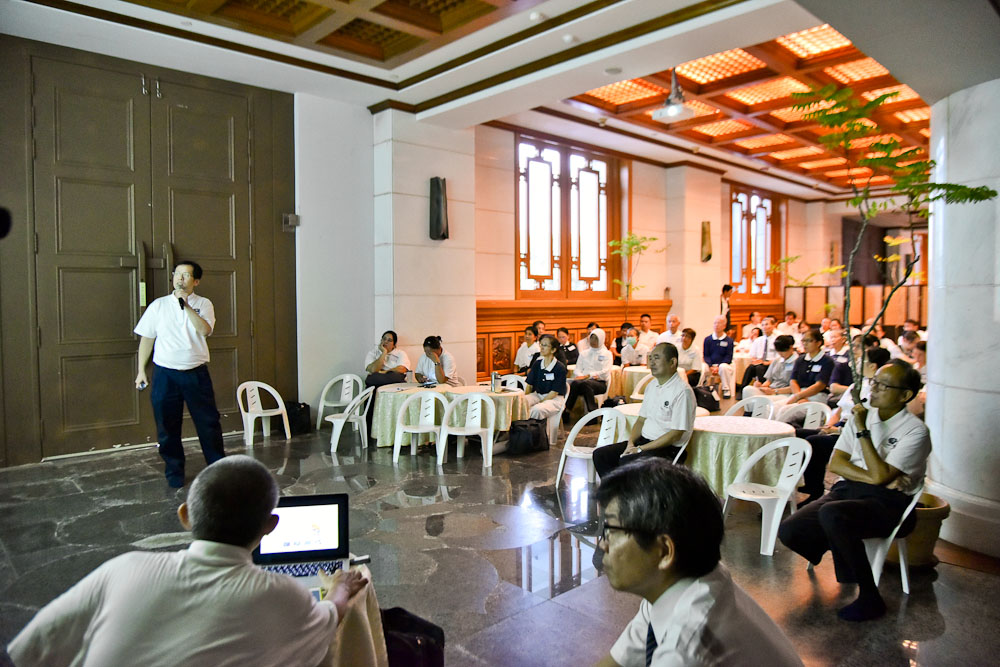 Written by: Lo Yi-Yun, Huang Chiu-Hui
Translated by: Yuaner Wu
Title of Dr. Huang Min-Ja's talk is "Full mouth rehabilitation of patient with severe ridge atrophy". On the first slide, attendees sighted "It is so beautiful! Where is it?" Dr. Huang said, it is a moment of sunrise in Seven Star Lake (Hualien). It is so beautiful. Just like it, everyone wants to have a nice day everyday. Then, he wanted everyone to look at the second slide. "This patient has a pretty bad dental condition." However, his alveolar bone pile is pretty healthy. To rebuild, we only need a good dental impression. It's very simple. Dr. Huang commented, to treat patient like him is like to have a sunny day. Then, he played a picture of a moment before rainstorm. It's like facing a rainstorm when a dentist saw a patient with terrible Maxillary Ridge, very thin alveolar bone pile, and severe maxillary sinus atrophy.
Dr. Huang commented, our old way for dental filling might prohibit patient to smile. "The denture would be seen when smiling. But, it looks very beautiful after dental implant. You can't tell it's not native. It does not take a long time to complete a dental implant procedure. The implanted tooth can last a long time". In an hour, Dr. Huang shared us his experience with dental implant and full mouth rehabilitation without any reservation. Also he answered passionately to a female dentist's question.
Dr. Liu Yi-Chih from TIMA Northern Taiwan Region continued his sharing. The title of his talk is "Water contamination control for mobile dental units." During his talk, he conducted a small survey. He asked if anyone in the audience thought about water's quality in the dental operatory. Then, he discussed the association between biofilm and dental treatments. He mentioned an Italian case in 2011. Eighty-two women died after dental treatments. After investigation, the cause of those women's death was related to a contamination in the water supply to the dental operatories. It is closely related to bacteria growth in the water supply.
"The next speaker has a name can be remembered easily. Because his Chinese name is "Golden Dragon". The introduction given by Dr. Lee Yi-Pang from Hualien Tzu Chi Hospital brought some laughter's. Dr. Hsieh Chin-Lung shared his case "Root canal treatment in dental outreach to Tacloban Philippines. It's a case about providing root canal treatment without an x-ray. Dr. Hsieh first introduced instrument for root canal. Then, Dr. Hsieh introduced Dr. Liao: "Let's welcome Dr. Liao to give us some comments." Dr. Lee Yi-Pang continued, "Please welcome Professor Kenneth Liao from New York University to speak a few words."
Dr. Liao:" I am very happy to see so many familiar faces, new faces, and beautiful faces. I am an endodontist. Dr. Golden Dragon is better than me in treating root canal. Two years ago, I had a presentation in the TIMA Forum at Manila Philippines. The topic was endodontic rehabilitation. Dr. Liao shared his paper on endodontic treatment and direction that he presented in the New York University. He praised "Dr. Hsieh Chin-Lung and his team have done well in the dental outreach. With limited time, space, and instrument, they could complete the procedure without any delay."
At the end, Dr. Lawrence Lai from California, United States gave closing remarks. Dr. Lai said that he did not prepare for any speech because he thought that he wouldn't need to get on the stage. However, all of the speaker have a very good control of timing and there were some time left for his talk. The topic of Dr. Lai's talk is "Evidence-Based Dentistry- from root canal to root fracture to the root of dentistry, occlusion." Dr. Lai inserted his talk with some jokes which brought some relaxations to participants after listening 3 hours lectures. The panel discussion concluded under a very pleasant atmosphere.