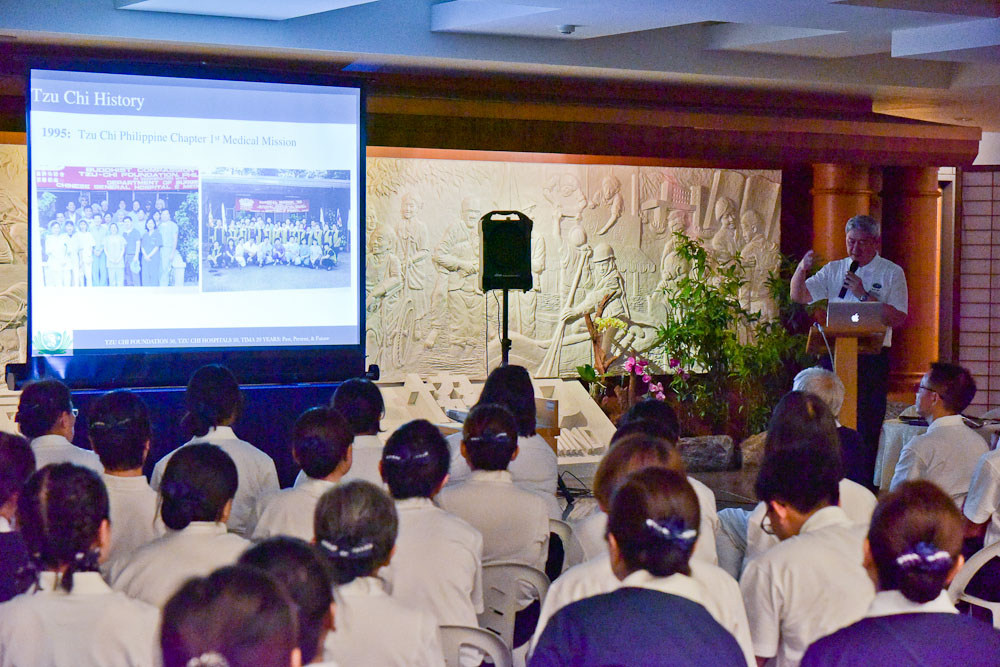 Written by: Wu Yi-Fang
Translated by: Athena Lee
Proofread by: Grace Wei-Ya Wang
The panel discussion of General Surgery was held at the basement of Jing Si Hall at 13:30pm on Wed 14thSeptember. There were approximately 66 members at the discussion. Starting with the introduction from Dr. Chang Chun-Ming, the first lecturer was Dr. Josefino Qua (Ke Xian-Zhi in Chinese Characters) from the Philippines. Dr. Qua started humorously with his affinity with TIMA, "My mom volunteered me." He then shared the 20 years of experiences of the free clinics held by TIMA at Philippines.
The start-up of Tzu Chi medical care nurtures compassion, teaching how one should give without expecting anything in return
The first Tzu Chi Chapter in the Philippines was established in 1994. Unlike other countries, which usually started with charity work, due to the poor provision of medical services in the Philippines, the Chapter started its work by providing free clinics right from establishment.
General Surgery requires the usage of a vast amount of professional equipment. However the places that free clinics took place were usually more like field hospitals, therefore at times only the minimum or the unprofessional equipment were available. For example operating tables that were not height adjustable, the doctors could only operate by moving themselves to suit the situation. Obviously professional lights wouldn't be available, so the only way was to rely on wall lights hanging down as temporary surgical lights. Sometimes there weren't any suitable stretcher, so the physicians had to carry the patient straight to the surgery bed themselves. On site there were always different challenges, testing the imagination of the volunteers with woodwork or electrical expertise.
In order to reduce the cost of expensive medical equipment, there were 3 ways: rent, purchase from second-hand shops or fundraising to accumulate funds. Apart from considering the financial issues, the free clinic space, route, time and place and more importantly the possibilities of infection, even weather conditions all needed to be taken into account.
Challenges do not occur only on site. Dr. Qua recalled that once he was on the way to a free clinic, the car got a flat tire halfway. As it was getting darker and there were no street lights, he suddenly remembered that his wife had given him a box of matches before his departure. Using the weak lights from the matches, he managed to change the tire. When they finally arrived at the clinic spot, it was already one o'clock over midnight.
Dr. Qua said that he is very grateful to have his mother's support to volunteer for Tzu Chi. Although his mother passed away in 2008, Dr. Qua felt he has attained another mom that is Master Cheng Yen. Dr. Qua showed a picture of his childhood on the screen. He said, "When people asked me what I want to do when I grow up, I answered that I want to be a doctor. I want to become a surgeon in particular as a surgeon can make a lot of money." But in fact, after I became a doctor, I did not make a lot of money and I always wanted to retire. Until I joined Tzu Chi International Medical Association, Master Cheng Yen's teachings taught me that only by giving can one attain happiness.
In the Philippines, many people with diseases never get to see a doctor in their whole life. Dr. Qua felt that all medical personnel volunteering at TIMA are like living Buddha. Many woke up at 3 in the morning and started operating surgeries at 8. Even tired, when they saw the smiles on the patients' faces, they felt satisfied. By attending TIMA, it energized Dr. Qua to continue to pursue his dream as a surgeon. He shared his motto with the TIMA members to conclude his talk. "I don't know what great is like. I don't know how far distance can be. But I know what I can give now."
Hearing aid program – facing challenges with wisdom
At the very beginning of the session, Dr Ho briefly introduced the status quo of Singapore TIMA, having 2 free clinic centers that include general surgery, dentistry, Chinese medicine and Spectacles departments. As Singapore already has adequate health care, TIMA decided to extend health care resources overseas to Philippines, Indonesia and Sri Lanka.
Currently, there is a hearing aid program being implemented at Tacloban Philippines, as the area has very little hearing resource. For example a hearing aid could cost from $30,000 to $50,000, an audiometer costs from$100,000 to $300,000, not to mention any professionally trained audiologists or soundproofed room.
The overseas free clinics are always difficult with many challenges. Dr. Ho humbly said, "Before doing the overseas free clinics, Tzu Chi International Medical Association has already accumulated many experiences locally. Therefore Singapore TIMA only needed to learn from those experiences. When encountering inevitable challenges, like what Master Cheng Yen said 'just do it', and we shall be able to accomplish the tasks.
The solutions include seeking support from manufacturers of hearing aid to donate or lease, to fulfill the amount of equipment required. As for the lack of sound proofed room, we try to seek from within from our talented volunteers to build from scratch. However with the initial problems solved, there are still many issues left to be taken care of. As the free clinics are only held from time to time, it is difficult to track the rehabilitation on an on-going basis. Also the equipment and the parts all have certain lifetime, the maintenance of batteries and accessories are difficult problems that still need to be resolved.
Are we willing to rise to the challenge?
Before ending the lecture, Dr. Ho asked the TIMA members a question. "Are we willing to rise to the challenge? He sincerely wished that all members including himself can continue walking on this Bodhisattva path hand in hand.