Written by Xu Xiu-Feng Photographed by Xu Xiu-Feng Translated by Mindy Chen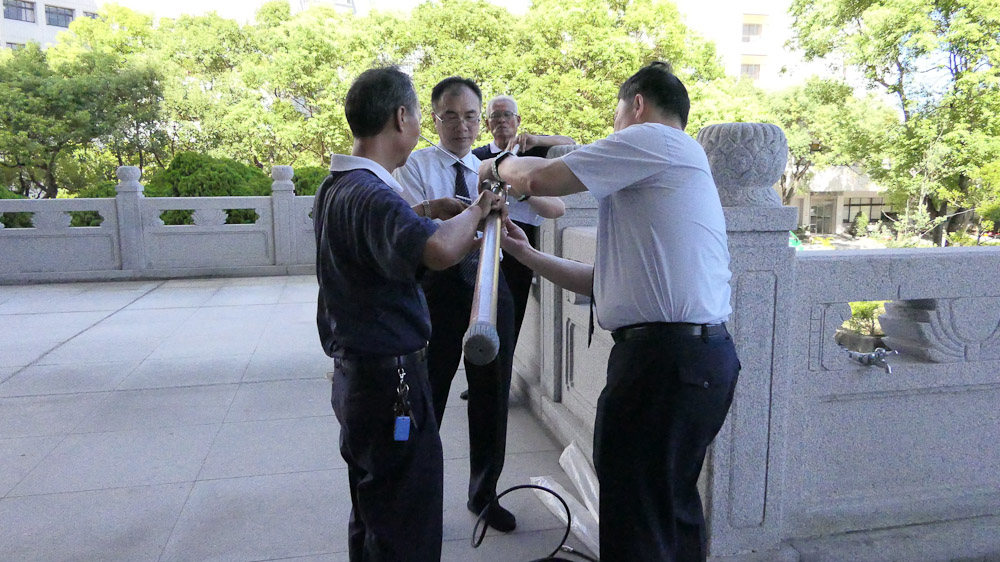 Zheng Qiu-Cheng, together with another two volunteers, installed wireless antenna for the sake of smooth e-communication during the Conference.
On the afternoon of September 20, about 60 volunteers of the on-call team arrived at Jing Si Hall, Hualien. White clouds floated in the blue sky to welcome them. They were animated and got ready for their duties.
On-call volunteer Chen Wen-Xiong led 16 team members to set 300 chairs in Room 220 on B2. The room was used for a volunteer lounge during the Conference. They, near 80 years old, are grey-headed but dynamic as young men. At the corridors of the second floor, following the instructions of Mei-Fong Yang, they set tables and chairs placed in a lotus shape for TIMA attendees to take a break during break time. On the first floor, volunteers are also busy with setting tables and chairs—each table with 9 seats. In the meantime, Dharma Master De-Ni came to show consideration for volunteers and reminded them to have adequate space between two chairs so that attendees could feel comfortable and ease their minds while sitting there.
At the external corridor (Compassion) on the second floor, three volunteers were busy with installing wireless antenna. Volunteer Qiu-Cheng Zheng, together with 8 volunteers of the e-communication team, carefully set up the e-communication system to ensure the functional team members could smoothly communicate through walkie talkie. Furthermore, the general-affairs team dealt with all kinds of requests from all functional teams or urgent matters reported.
In the Sutra Lecture Hall, volunteer Wu Shui-Mu, the on-call team leader, neatly put cushions on each chair. He hoped TIMA attendees travelling a long distance to their spiritual hometown could experience Tzu Chi humanistic culture including sincerity and respect for living being through everything during the Conference. However, he himself experienced joy of dharma when carrying out the on-call duties including decorating work requested from other functional teams, because he wished to have an affinity with TIMA attendees, dharma family, through all the services he offered.
Upon receiving the transportation request, volunteer Yi-Cheng Yan immediately made a phone call to arrange the transportation. He expressed that the on-call team members must take care of any urgent requests without any hesitation. He felt fortunate to participate in the event, because through serving dharma family members during the period of TIMA Conference, he experienced Tzu Chi humanistic culture and spirit. The on-call team members were assigned different duties for taking care of every participant and what's more, they made an affinity with other functional team members while carrying out duties.
Zheng Wen-Hao returned from North California, USA, to attend the 2018 annual TIMA Convention and on the other hand, to gather experience in all kinds of functional duties for hosting 2019 TIMA Forum. Before, he usually simply listened to the lectures or participated in programs when attending various Tzu Chi camps - four in one, Entrepreneur, TIMA; however, this time, he felt joyful to have the chance to involve in all kinds of functional duties. Through self-experience, he realized that all kinds of trivial duties like placing cushions on the floor should be carried out mindfully in order to offer the attendees a comfortable environment during the event.
Wu Shui-Mu, the on-call team leader, neatly placed cushions on the chairs in the Sutra Lecture Hall in order to offer comfortable seats to all TIMA attendees.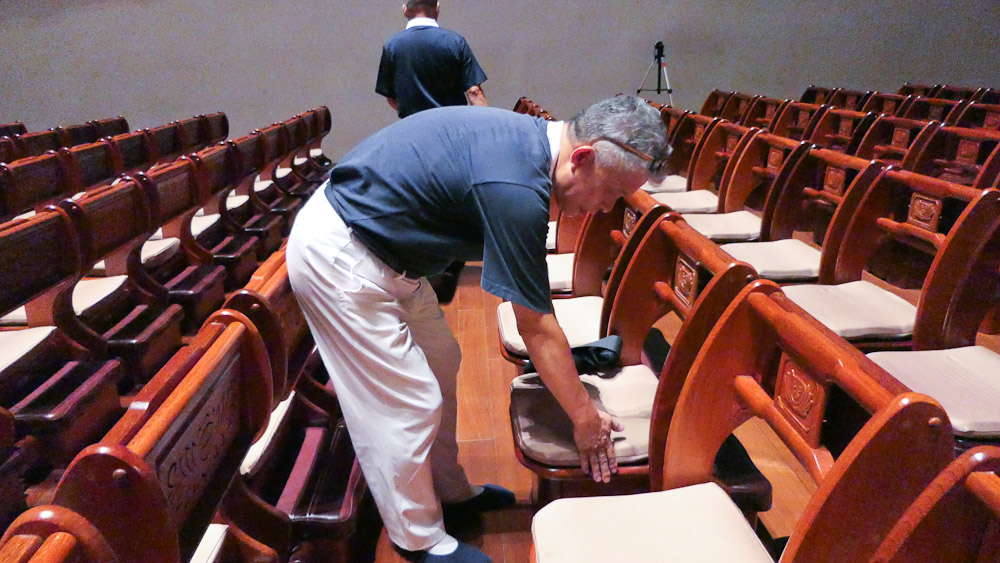 Zheng Wen-Hao returned from North California, USA, to attend TIMA Conference and on the other hand, to gather experience in all kinds of functional duties for the sake of hosting 2019 TIMA Forum.