Written by Huang Shu-Zhen, Yang Chin-Yen Photographed by Yang Xiu-Chun Translated by Mindy Chen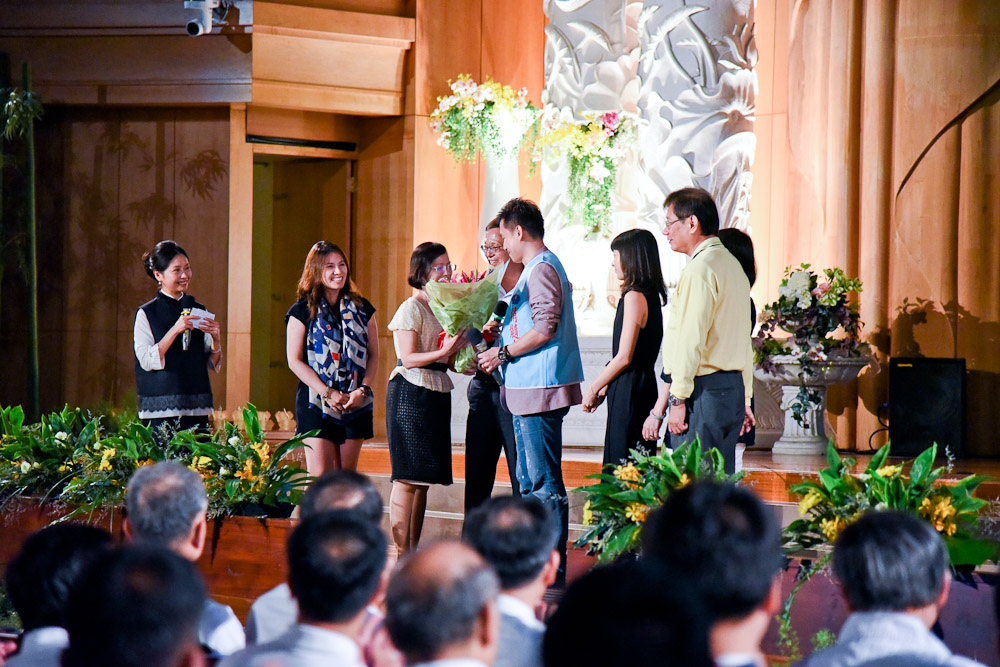 The bone marrow recipient Cai Ming-Jia(Left three) handed the donor Song Yun-Da (left five) a bouquet of flowers.
Love beautifies life. On September 24, 2018, the reunion day for family, a "Happy Reunion" (a meeting for the bone marrow donor-recipient pair) was held for two pairs of bone marrow donors and recipients. The touching pictures beautified the full moon.
When the 37-year-old bone marrow donor Song Yun-Da appeared on the stage, the recipient Cai Ming-Jia and her husband Wen Kai-Ping knelt down to repress deep gratitude. Yun-Da Song held their hands to help them up at once and said, "We are family members!" After nine years of waiting, Ming-Jia and her husband finally could convey their deep appreciation to the lifesaver.
In 2009, nine years ago, on the day when Wen Kai-Ping was certified as a Tzu Chi commissioner, his wife Ming-Jia was also diagnosed with Leukemia. When Wen received the bad news, he hid somewhere alone and cried. However, he wiped away his tears and returned home to comfort his wife. After treatment, it seemed hopeless, therefore, his wife Ming-Jia prepared to die and told her 14-year-old daughter, "I cannot accompany you to your 18 anymore…, you have to learn to take care of yourself."
Ming-Jia couldn't get a matched bone marrow from her family members, but fortunately, the matched donor was found in the database of Tzu Chi bone marrow donors. Wen joined Tzu Chi bone marrow registry (official name: Tzu Chi Stem Cells Center) in 1994. Then in 2009, the matched donor of his wife was amazingly found in the database.
However, the matched donor Song Yun-Da lost contact after he promised to donate. Three days in a row, Tzu Chi volunteers went to Mr. Song's work place and hoped to be able to contact him. Finally, they realized that because his mother and other family members were against it, he was in a dilemma; he even thought of concealing from his mother to fulfill the morrow donation. Therefore, Tzu Chi volunteers parted two teams, one to Yi-Lan and one to Taoyuan, to communicate with his mother and his older sister respectively. The volunteers made every effort to ease their worries by verifying that bone marrow donation is harmless to the donor. All efforts paid off; Song Yun-Da could eventually donate bone marrow to save a life and a family.
Wen Kai-Ping shared that his wife's blood type was altered from B to O after transplantation; besides, she seemed to become a bit stubborn, too. Brother Wen asked Mr. Song Yun-Da, "Are you also a person who is unstoppable when doing right things?" The audience was amused by the humorous question. Brother Wen held Mr. Song's hands tightly and said, "I've waited for this moment for 9 years! When your bone marrow stem cells started to flow into my wife's body, you've become my family. I cannot thank you enough for saving her life and my family!"
Mr. Song Yun-Da shared during tea time, "I've been worried about the recipient's health for 9 years. Today, I try not to cry when meeting the recipient and her husband. Before, I thought I help only one person but today, I felt I help a family."
Working in Zhengzhou, Henan, Mr. Song Yun-Da rushed back to Taiwan to meet the recipient. He said, "If becoming the matched donor again, I will donate again. Besides, I am willing to participate in bone marrow promotion." As soon as he learned Brother Wen will take part in the promotion activity on October 3, he immediately promised to join him."
Jogging for Bone Marrow Donation
"Congratulations! You got a jackpot." In 2001, Liu Yong-Fa joined Tzu Chi Bone Marrow Registry in Tainan City. At that time, he didn't think too much but help people. However, he did become the matched donor 11 years later in 2012. "I've made a valuable life for myself," he happily shared during tea time.
Mr. Liu has high blood pressure. When he was notified to become a matched donor, he began to eat a healthy diet and jog every day. He started from one kilometer and kept increasing the millage by one kilometer—he is able to run a marathon now!
The bone marrow recipient Young comes from China. In 2011, he was 18 and an 11th-grade student. When he was diagnosed with Leukemia, he felt ANGRY and yelled, "Why me?" After cycles of treatment, he, fortunately, found the matched donor in 2012 and received the bone marrow transplantation. Unfortunately, his leukemia returned. He said, "I am not afraid of death, but I am worried about my family." His family members wondered whether the matched donor would donate bone marrow again. Nevertheless, the donor gave a positive response without any hesitation. Therefore, in 2014 Young underwent the transplantation. The rejection to the transplanted stem cells has been gradually smoothed away.
During the Happy Reunion, Sister Chen Zhu-Qi, the host, humorously asked Young," Have you ever thought of what the donor looks like? Ever wonder he/she is ROUND or FLAT? (an informally humorous way for description in Chinese)" He replied without hesitation, "Round! Because kind-hearted persons show no bias to people—their hearts are round."
When Mr. Liu Yong-Fa appeared on the stage, Young and his mother immediately knelt down in front of him to express their deep gratitude. Young said, "Whatever long distance I must travel, I surely come to convey my deep gratitude in person." He gave Mr. Liu the letter which he wrote to express his gratitude for being his lifesaver and bringing him new hope of life.
Mr. Liu Yong-Fa expressed, "I have never thought of getting something in return for doing this. However, my heart is filled with joy afterwards." Mother of Young said, "Young has become quite diligent, thoughtful, and also prepared meals for me of his own accord since he received Mr. Liu's blood stem cells." She asked Mr. Liu, "Do you cook at home?" Mrs. Liu answered for her husband, "He doesn't cook but help wash dishes. He is indeed diligent." Young stated, "My health gets better and better; I wish to contribute myself to serving others in communities and help persons in need."
The touching Happy Reunion indeed beautify the full moon.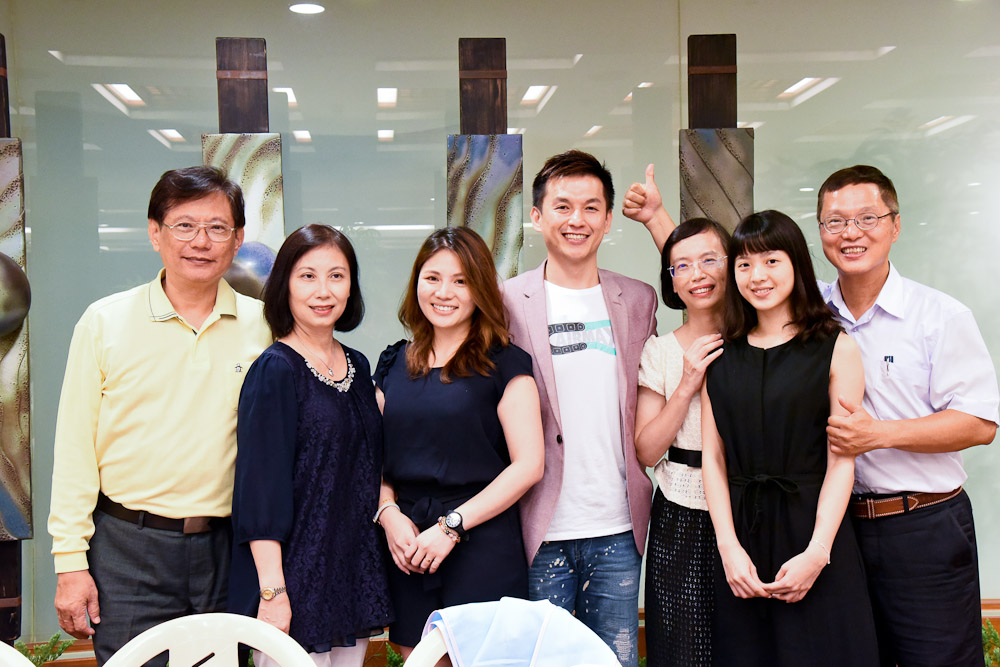 (Start from right) Brother Wen Kai-Ping, his daughter and his wife Cai Ming-Jia appreciated the donor Song Yun-Da(Right four) for saving their family. Brother Wen expressed, ""I can't thank you enough for being a lifesaver."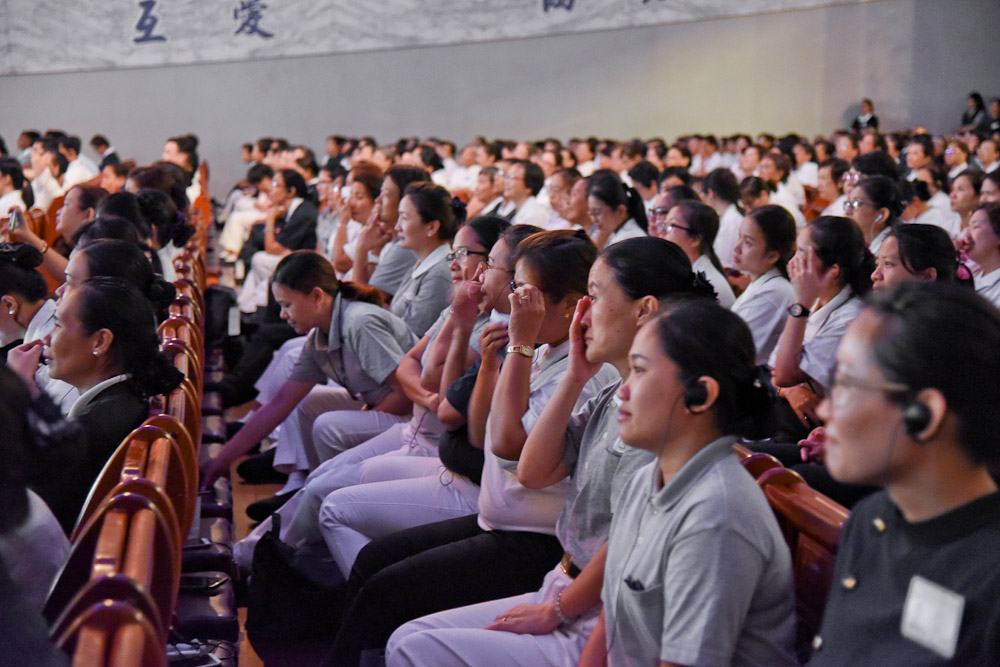 The audience with tears in their eyes was moved by the touching pictures of Happy Reunion.