Written by Xiu-Ying Zeng Translated by Mindy Chen Proofread by Agness Tsao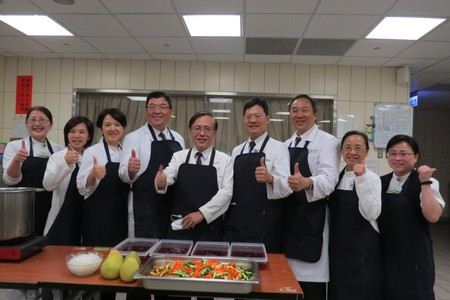 Superintendent So-Hsin Chien and colleagues make healthy snacks. (photographed by Xiu-Ying Zeng)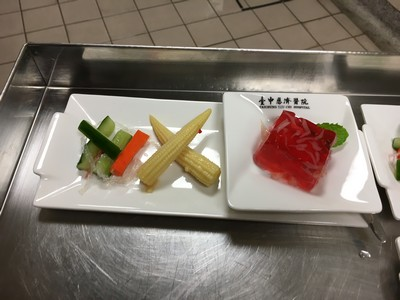 Pickled vegetables (on the left) (photographed by Jia-Ying Yu)
Autumn is approaching, so is once-a-year TIMA Convention. It's also time for TIMA members from all over the world to get together again. On September 22, a healthy snack was prepared by the medical team of Taichung Tzu Chi Hospital. Superintendent So-Hsin Chien looks forward to welcoming all TIMA members with the natural-flavor creative snack.
This year, Taichung Tzu Chi Hospital is the host of TIMA Convention. Following a special recipe, the nutrition division wants to share TIMA members the hand-made snacks, pomelo-rosella jelly.
Two major ingredients of the jelly are pomelos and rosella fruit. Organic rosella fruit are picked from the mountains behind Taichung Tzu Chi Hospital. The pomelo-rosella jelly was made by mixing fresh rosella fruit juice with sugar, jelly powder and pomelo flesh. The jelly is rich in vitamin C and fiber.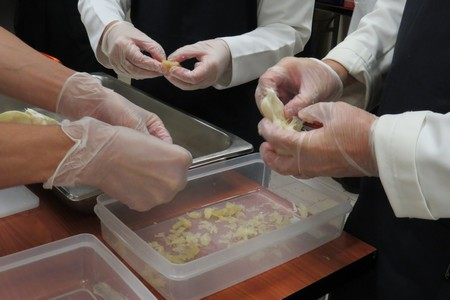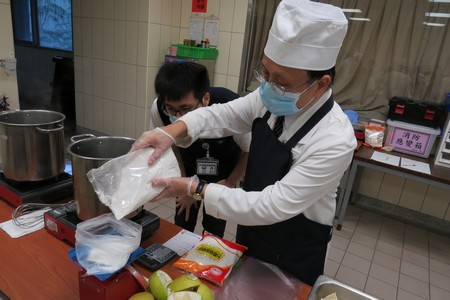 Superintendent Chien and his colleagues work together to make pomelo-rosella jelly.
It's hard to peel pomelo. Superintendent Chien, Secretary Guo-Liang Chiou, Dr. Yu-Min Song and Dr. Ying-Chao Lin were absorbed in peeling pomelos and getting flesh. Afterwards, following the instructions from the colleagues of Nutrition Department, they make the mouthwatering jelly snacks.
Superintendent Chien stated that he hopes TIMA members from different countries not only enjoy the tasty, colorful jelly snacks with natural flavors but also experience the wonderful Mid-Autumn reunion through the reunion of warm hearts.