Written by Jessica Huang
Translated by James Huang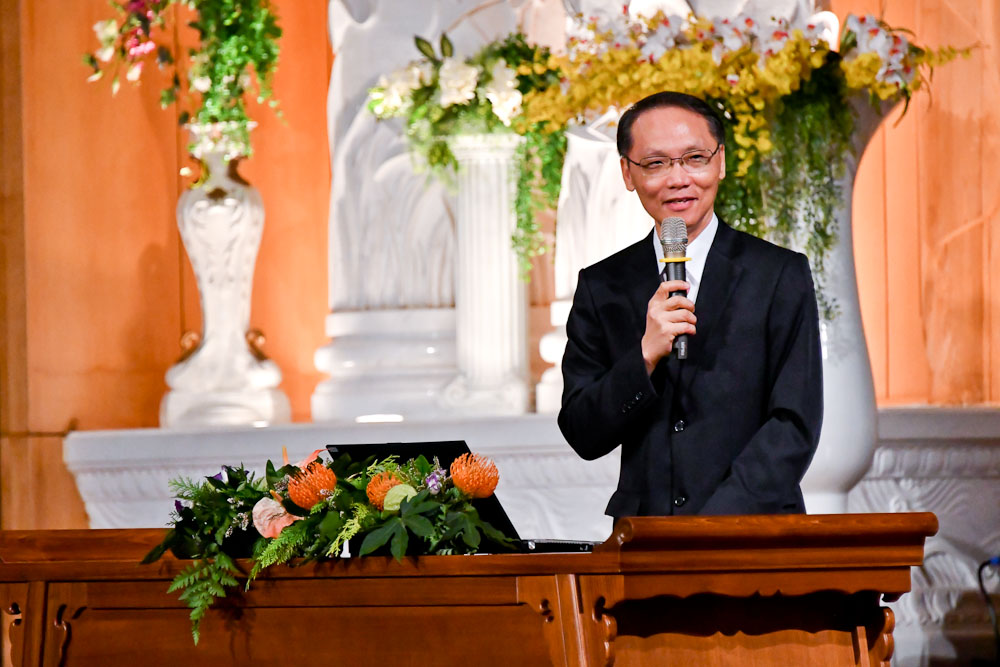 This course began with an introduction by Brother Yun-Jing Wang of Tzu Chi Medical Foundation. Bo-Wen Yan, CEO of Tzu Chi Charity Foundation, Brothers Zu-Song Chen and Guo-Qi Qiu of the Religions Department are the speakers.
Brother Yan was the CEO of United Microelectronics Corporation before he took early retirement this year and became a full-time Tzu Chi Volunteer.
Brother Yan said, "I admire deeply the concert TIMA gave last night which showed the love and benevolence all from all participating physicians and nurses. I had chance also to see TIMA's work has combined charity, education and humanistic culture altogether."
Sustainability is the Way to Safeguard the Earth
Brother Yan continued on, "Medical professionals are there to safeguard people's health, to save lives and keep the love between people. What I am here to talk about is to extend that to all sentient beings." He went to the issue of the irreversible crisis we are facing, the climate change." He remembered in one occasion when the Master mentioned Ecological Debt Day. "It`s the realization of how humans broke the balance of economical self-healing function. In 1987, that day came 12 days before as predicted. That day came even 151 days sooner for 2017 on the date of August 2. This means we are borrowing our resource from the earth from that date on. This is a very serious problem we cannot ignore." He pointed out that active dialogue on that issue must take place worldwide.
In 2014, UN announced a 17-items index for sustainability development (Sustainable Development Goals, SDGs) which is expected to be implemented on January 1, 2016. Brother Yan categorized the 17 items into three groups. First one is aiming at eradicating poverty, ending starvation, etc. The second is to balance the development of resource. The third is building a partnership with the ecosystem. "I had asked to use that index in evaluating Tzu Chi's charity operations worldwide which has been published in a special issue for Tzu Chi Quarterly for Tzu Chi's 50th anniversary."
He went on to the result of that evaluation, "Tzu Chi in Taiwan has done the job very close to the index. There is only one item was not matched up, the Peace and Justice. But to me, Tzu Chi has worked on promoting peace, promoting vegie meals, forbidding any kind of killing. All that has shown in its teaching of 'Your heart, the Buddha's wish, and all the sentient beings are all equal'. So I am suggesting that we should include this item as a matched evaluation result." He recognized what Tzu Chi has done for sustaining earth's resources. Before he ended the talk, he gave a preview of that Brother Chen would present next on relief aid of Hurricane Harvey, the world worst natural disaster in recent days, along with the war refugee issues to be shared by Brother Qiu.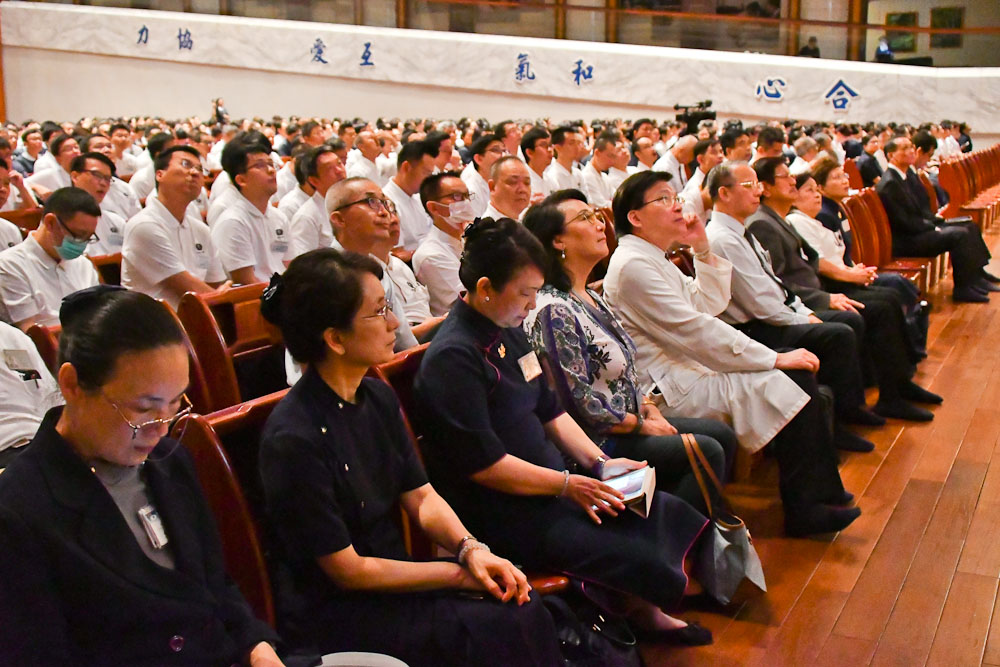 Tzu Chi Mobilized for Relief Aid to Hurricane Harvey Victims
Brother Chen spoke on climate change and carbon dioxide, "Climate change has a lot to do with burning of petroleum and natural gas, as well as cattle stocks farm waste which caused great deals of CO2 emissions. Statistic shows that while we are here talking, there are more than 6,000,000 animals are slaughtered in the next hour." It is a warning of how pollution could be getting worse rather fast.
Brother Chen continued to point out Texas State has the number one operation of petroleum and natural gas industry plus the number one operation of cattle farms. But it was wreaked havoc by Hurricane Harvey on August 25, which resulted in the worst damage by a single hurricane inland.
"When a hurricane hits, it takes on all areas, be it an upscale community or a slum." Brother Gee-Zen, CEO of Tzu Chi Texas Chapter, despite the damage in his own home, took a raft to check out the Jing Si Hall building for its safety. "CEOs from all chapters in U.S.A. all flew into Houston to make collaborated plans of relief aid. Somehow, their arrival through the sky, traveling as far as from Hawaii, was reminiscent of bodhisattva descending to solace the suffered. The mobile dentistry clinic van in California travelled across four states in three days to join the effort. These showed that Tzu Chi's aid goes to all who needs help, no matter whom they are.
Tzu Chi volunteers found a small village of about two hundred Cambodia refugees living about forty minutes driving distance from our Texas headquarters. Brother Chen said, "In this paradise country, still we saw this group of people seemingly is being forgotten. Their major income from growing 'hollow stemmed green" vegetable would not come because of this hurricane…" Tzu Chi volunteers visited every family in that village and found that up to 195 household were in need of cash. They were the ones stayed behind due to lacking the English skill.
In order to conduct the rescue operation efficiently, City of Houston mobilized more than 9,000 police and firefighting personnel. About 30% of their homes were also damaged. When asked how we could help such a big number of rescuers' family, the Master simply answered that go ahead and do what you think is necessary to help. With that simple but effective instruction, volunteers began to plan for and acted on distributing relief aid to those rescuers' families. Those usually solemn-faced public safety officers all smiled when they took Tzu Chi volunteers' warm receptions. The support we gave to those behind-the-scene heroes reduced the worry they might have about the situations of their families. Tzu Chi's relief aid effort was recognized by several cities that they honored September or October as Tzu Chi Month to commemorate their gratitude to Tzu Chi.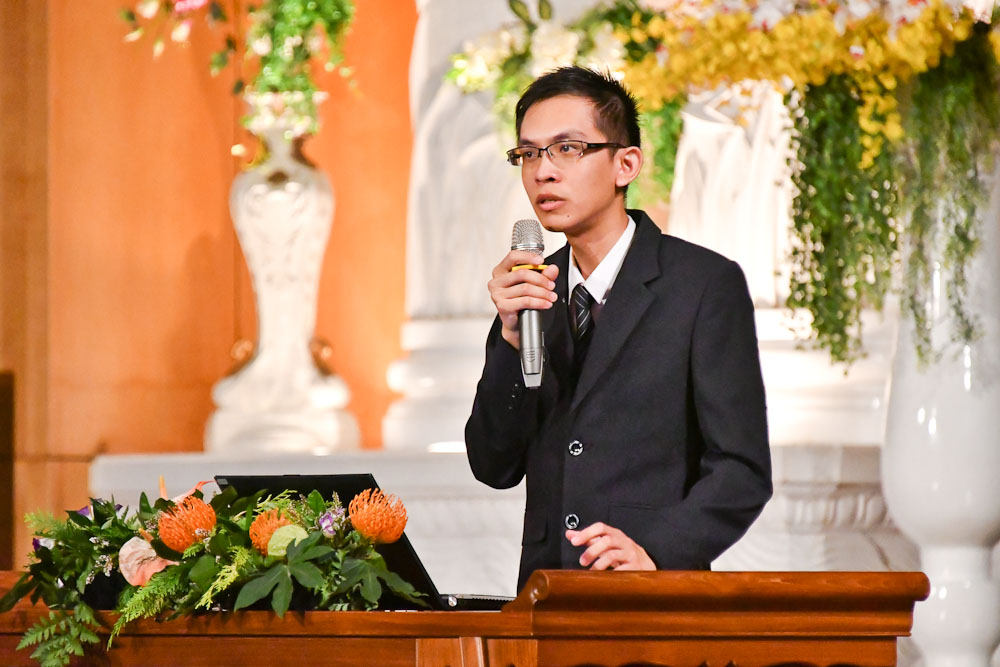 What is behind our relief aid effort is the selfless devotion toward saving all sentient beings
Brother Chen said, "During that two hurricane disaster month, we had made distribution for more than 12,000 victims. It was a very hard work situation. But I feel that our Master Cheng Yen was the one worked the hardest to push all relief aid effort forward." "After an internet web conference on August 28, the Master asked to have prepared rice packs sent to the devastated areas. She kept asking about shipment of such urgently needed life-saving food every day until it was finally completed on September 2. Other relief aid items like emergency cash card was also on her checklist."
He remembered what he saw of the Master during those days. "Every morning between 6:20 and 7:00 was the time for reporting any progress of the relief aid operation. The Master, although 80 years old, was there trying to memorize from information from written material which would be shared around world soon. Brother Chen was touched by the Master's volition in saving the suffered even she might need to burn off her life. "Can we actually feel the urgency of climate change issue in this comfortable air-conditioned room? We need to keep in mind how to share our Master's burden as much as possible."
"It was the evening of September 28, the Master turned her head and asked me right before she returned to her study, 'How exactly can we transform unwholesomeness into wholesomeness?' I replied, 'Following the precepts and consuming only veggie food.' 'That's right. We need to do that plus repenting with more benevolent people.'" Brother Chen asked the audience to take the action so to reduce unwholesomeness.
Give Great Love in Turkey; eradicate poverty and hate
Before getting into the topic, Brother Qui shared what he learned from a conversation between the Master and a volunteer, Brother Tien-Lai Lin, general manager of a publication company. He asked the Master, "How come your time is always tied up by all kinds of prearranged schedules?" Brother Qui commented on that by reminding us that we need to get ourselves close to the Master's mind and act after detecting what she wants for us even before being asked about."
Brother Qui went on to say, "The Master would feel so because she always feels racing with the time." The Master then went on to say, "There is not a single second when I am not thinking of the people suffered by all kinds of calamities. I am thinking of Houston and Rockport where Hurricane Harvey had devastated both cities; I am thinking of Miami and Saint Martin where Hurricane Irma had swept through; I am also thinking of Dominica and Puerto Rico where catastrophic Hurricane Maria had showed fern merciless power. On top of those hurricanes' vicious relentless damage, I am also thinking of the earthquakes in Guatemala and Mexico."
Brother Qiu went on to express his deep concern as the Master's close disciple. Next, he mentioned another volunteer who was hurrying back for a talk to be giving to TIMA. Brother Si-Sien Huang told him, "We've just celebrated the Mid-autumn festival, but we need to remember there are so many disaster-hit victims out there waiting for our help."
Brother Qui began to talk about Syrian war refugee issues. "Syrian civil war began 6 years ago. Now if you ask a refugee child whether he wants to return home, the answer usually is negative. The answer is that there are soldiers with guns around so we would better hiding inside. We will not have enough to eat. Besides, Syria is now so far away with so many bombs. It is so horrible. I do not want to go back.
How do we deliver care to a Muslim country like Turkey?
Tzu Chi Turkey Office's contact person is Brother Guan-Zhang Hu, a devoted Muslim was asked how he overcome the obstacles between two different faiths? Here is the story.
After an earthquake hit Turkey in 1999, Brother Hu came to see the Master and felt Tzu Chi was something so wonderful for him to bring to Turkey. His only worry was the religious difference there. The Master told him to quit worrying. She remembered back in her younger days in Taitung where she would pass by a catholic church daily. She would bow to it to show her respect to the God. She understood that as soon as we took away the barriers among us, i.e., nationality, race, and religion, what is left would be the simple "love". With love, there should not be anything standing between us. Armed with that faith, Brother Hu became the first Tzu Chi contact person in Turkey.
Tzu Chi brought spring to Syrian refugees. The Master told us that we had helped them eliminate poverty in the past. We are trying to help them eliminate harry. Our effort has resulted in bringing children back to school from exploiting child-labor manufactures. Brother Qui also presented the new campus for refugee children in a six-storied building, housed warm and bright classrooms filled with humanistic culture and hope.
"When they heard the disaster in Mexico, the refugee children just rushed to pour out their saving from their banks." Brother Qiu's story won warm applause.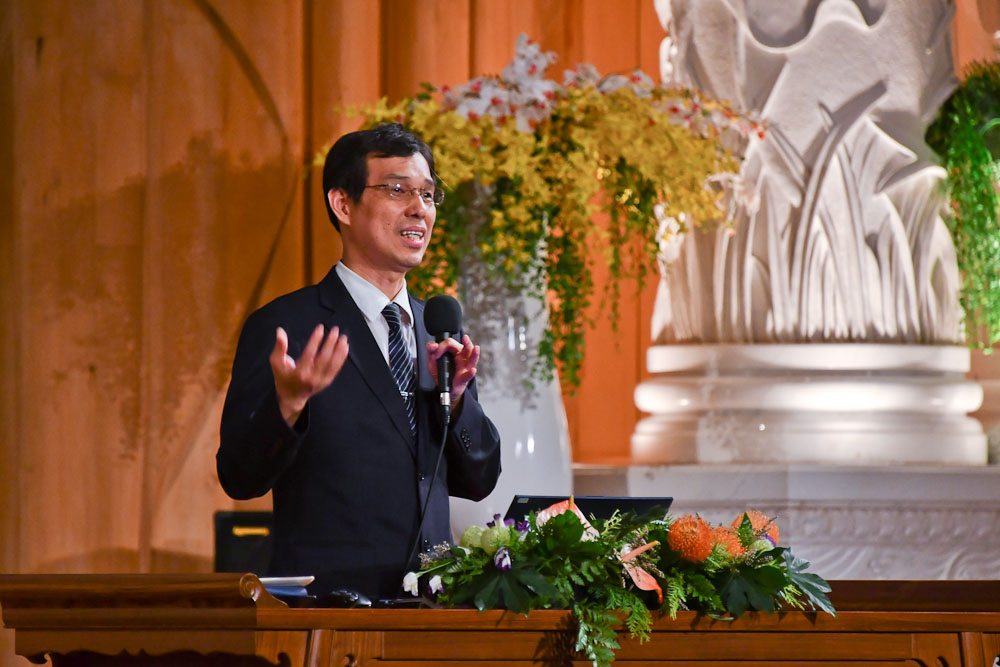 He concluded that Tzu Chi needs to care for around 8,000 families with the same number of patients each month, on top of providing education to 3,000 students. All those tasks are conducted by only three commissioned Tzu Chi volunteers and twenty some local volunteers. We truly owe them our gratitude." Again, his statements won warm applause.
Brother Yan came back to end the session by telling how many times he was moved whenever he learned about the effect of Tzu Chi's great love. He recalled that just a few months ago when he was still the CEO of a corporation, his daily morning routine was to watch the global stock market 7:00 – 7:15am because the company's stocks are trading in New York market. Now that I am here working for Tzu Chi, I still watch world news during the same time, but focusing only on disaster report which I always hope won't be there." With his own profound understanding of the Master's teaching, he elicited for more people to eat only veggie meals, to learn more of the Master's teaching, and continue on our collaborated effort in saving all living beings.