Written by Xing-Yi Shen and Tao Huo
Photographed by Ji-Xion Chen
Translated by Gloria Chou and Jack Yu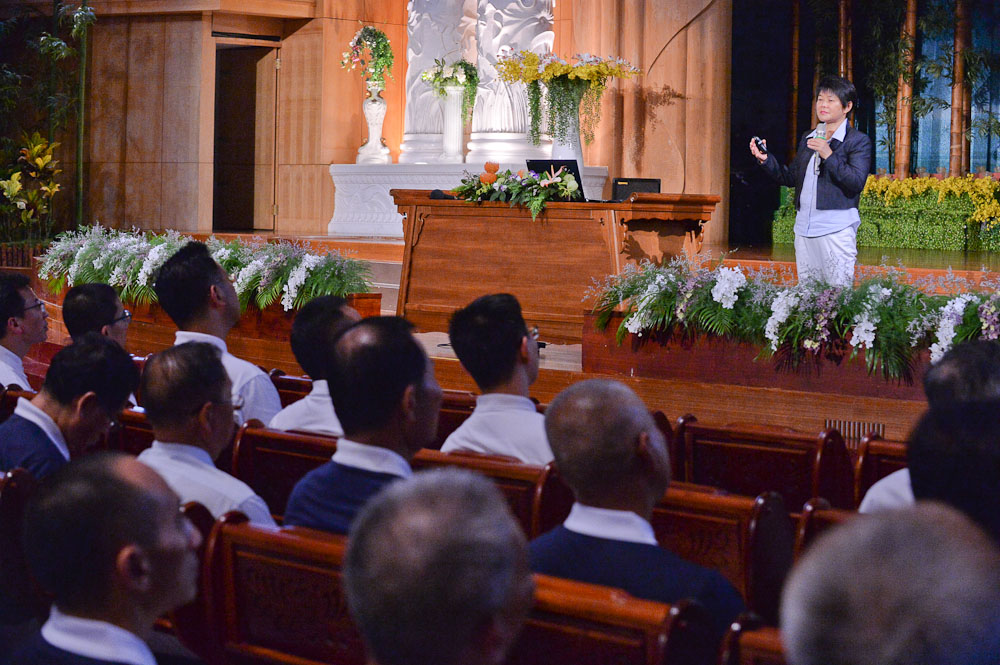 All the doctors, pharmacists, volunteers from all over the world attended Penal Discussion in Sutra Hall. (Photographed by Ji-Xion Chen)
"How much time does it take to open a door?" To save lives, even opening cabinet is measured by second, was the first question asked to the attendees of "Penal Discussion: Pharmaceutical and Logistics" led by Malaysian volunteer, Yu-Tseng Lee on the first day of TIMA.
While everyone was thinking, Ms. Lee presented a photo of working space in a hospital, all the cabinet doors were removed, and the medical supplies were clearly in sight for ease of use to eliminate the time to open the cabinet doors.
Inside the Sutra Hall, all the doctors, pharmacists, and free-clinic volunteers gathered to listen to Yu-Tseng Lee's sharing how refined-management can save lives.
Promote Refined-management in Hospital to Keep Patients Safe
Why do we need refined-management in hospitals? Everybody knows "improvement" would make a job done better. No wait, no waste can save time to take care of patients, this is where the true value of refined-management. However, we are facing steep challenges including price, cost, medical quality and lack of manpower. Thus we must value and promote refined-management. Ms. Lee explained in both Chinese and English and she showed examples of refined-management from hospitals across Tzu Chi and America hospitals clearly identify waste reduction and value creation.
Ms. Lee indicated refined-management has main hurdles, "waste" and "imbalance of workload". Distraction, miscommunication, unnecessary work, or expediences create problems and difficulties for people who worked and taking care of patients. She categorized eight types of waste: "Lack of: misdiagnosis, invalid specimen", "Transportation: non-ergonomic space design", "Waiting: waiting time for patients and medical staffs", "Stock: over stock, create holding cost and perish of goods", "Movement: inefficient dislocation", "Over procedure: unnecessary work", "Human resources: inefficient use of staff ability". All attendees couldn't agree more with her.
In particular, "where is the restroom?" This is the most frequent asked question. Yu-Tseng Lee said whoever has been asked so often would eventually getting afflicting emotions, the "Tzu Chi Lotion", smile will be gone from the faces very soon. Listeners laughed so hard. Apart from asking restrooms, there are many things during work even tiniest details troubled everyone and created waste.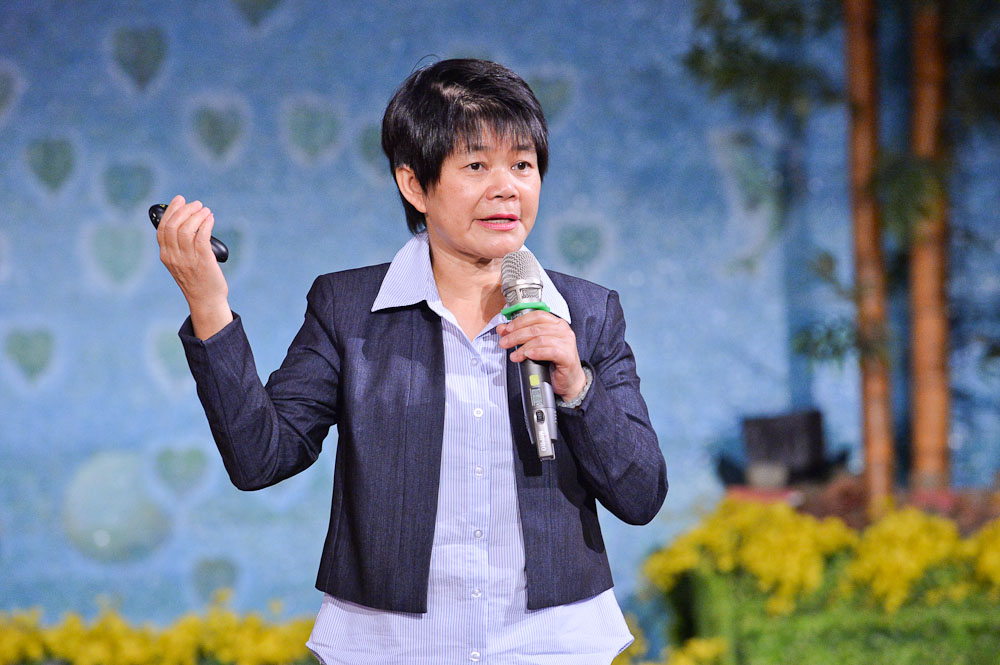 Teacher Yu-Tseng Lee from Malaysia shared how implementing refined-management in hospitals and free clinics could secure patients' safety and seize every second to save lives. (Photographed by Ji-Xion Chen)
Optimize procedures, less is more!
"How long does it take for Formula 1 race car to change its four tires?" Ms. Lee asked. The participants answered, "Ninety seconds", "five seconds".
"These were wrong answers. It only took one second for tire change. It's very hard to imagine, right?" There is only one screw on its wheel and does not require rotation, the mindfully design made it simple installation for anyone. What do we learn from Formula One race car? The considerate design costs less time, less is more!
Ms. Lee continues with example of treatment map from Tzu Chi Taichung Hospital, using spaghetti chart design concept; redesigning the pathways for register, medical division rooms and collection of medicine; this reduces the walking distance by 57% (averaging from 500 m to 200m) and 69% time saved (67 to 21 minutes) for patients. She praises the team led by Doctor Guo-Liang Chiu from Tzu Chi Taichung Hospital. Ever since the intervention of refined-management work group, working hours has been reduced from overtime every day to finishing by 4PM every day, saving time, effort and everyone is very pleased about it.
Refined-management on transportation is ergonomic design. To look after patients, medical participants should take care of themselves first. To place heavy items to where easy to reach, such as restocking supplies by putting weighty goods in carts, which is not only space-efficient and save time,. Small packed medicines and injections could be placed in slop designed box and based on FIFO (first in; first out) principle, which reduced large-scaled of medical waste.
In the emergency room of Tzu Chi Yu Li Hospital, each bed number is stuck on the wall and also on the floor, where the sticker printed in a larger form. For the sticker, they use color red to identify patients' condition as serious condition and color orange as condition stabilized. In Tzu Chi Taichung Hospital, Chinese Medicine Department used to have many displaced wheelchairs but after the new design, drawing lines on the ground and put a sticker to indicate where to "park" wheelchairs helped a lot. From the signage on the wall to the ground, clear indication marks have a great help for patients, even for those from different countries.
Refined-management also apply "Gratitude, Respect, Love" into each flow, ergonomic design, safety, etc. and utilizing 5S management tool: "Sort", "Strengthen", "Shine", "Standardize" and "Sustain". To avoid unnecessary waste and manpower is a way to increase the communication between medical participants and patients and to raise the professional skills of doctors and nurses.
Learning by doing
"If you do not have time to do things right, how do you have time to redo everything?" Seize any chance to solve problems and resolve slight problems, that's the spirit of refined-management. Master Cheng Yen said, "Doing things more mindfully would use less time, the time we saved could do more other tasks." As we can see from the thought shared by Master, she is the true model of refined-management implement. This is also we always hear from Master Cheng Yen, "Be mindful", means she expects us to think thoughtfully, wisely, and pay more efforts to improve the work conditions would led less waste and mistakes. The superintendent of Tzu Chi Taichung Hospital, Dr. Chien told Ms. Lee that refined-management did a great help to Taichung Hospital, which received Accredited Hospital.
A free-clinic volunteer from Malaysia, Ze-Wen Mo shared many volunteers from different countries often encountered lack of manpower but this speech made us understand how to utilize less manpower but doing things efficiently. Malaysian volunteer, Yu-Heng Yen also said, "The speaker took the example of Formula One tire changing showed that for a professional mechanic only spent three seconds to finish the job but we, inexperience workers might need ten minutes or even thirty minutes to change one tire." The critical problem is we should be well-prepared first including manpower, items, and procedures. Ms. Lee taught us reduce waste of manpower on medical part and this spirit can also apply in many field.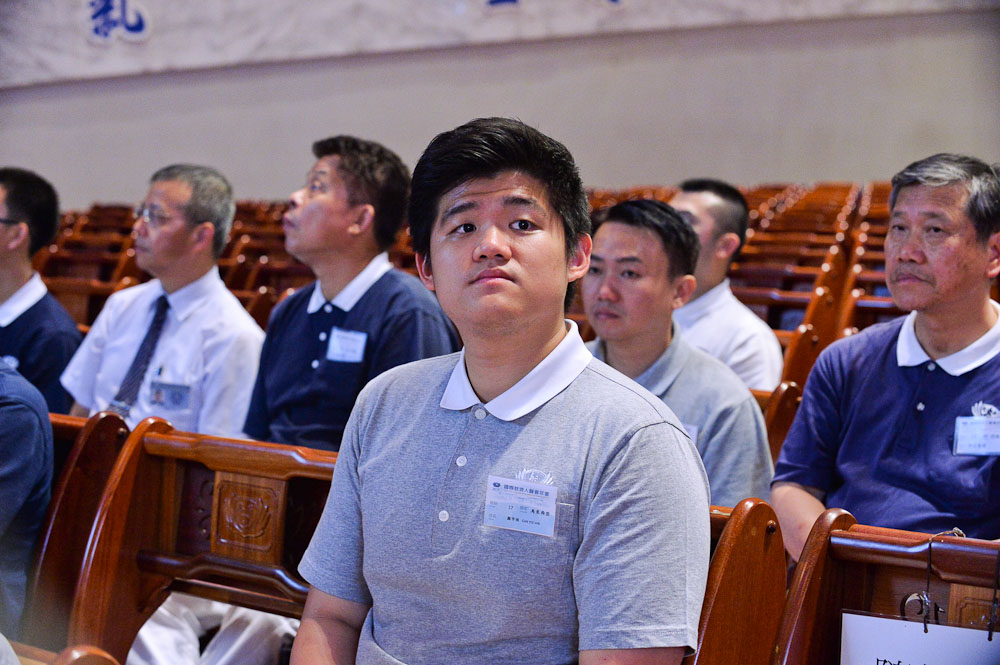 Yu-Heng Yen from Malaysia was impressed by the example of Formula One race car shared by Ms. Lee. To reduce waste of manpower not only on medical field but also many field. (Photographed by Ji-Xion Chen)
Technology comes from human nature
Fingerprint identification supports medical efficacy
After Yu-Tseng Lee's speech, Su-Shen Hong from Industrial Technology Research Institute (ITRI) presented how to use technology to raise medical efficacy.
"What are the frequent problems faced during free-clinic time?" Ms. Hong listed top five frequent problems occurred in free-clinic period: 1. Patient without ID 2. No access of Internet 3. Illegible handwriting on medical records 4. Drug Inventory 5. No case history on paper medical records. In order to resolve above problems, ITRI creates a free-clinic computer system for medical use, including fingerprint identification to set up personal identity, even in different county, this method is much user-friendly, lower error rate, and intelligent.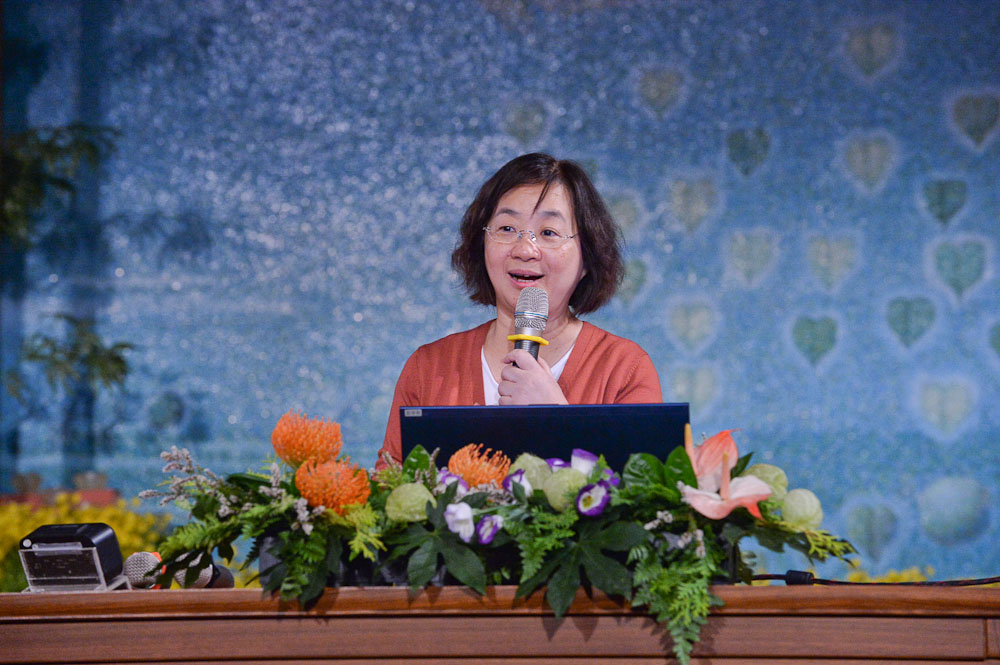 Su-Shen Hong from Industrial Technology Research Institute (ITRI) introduced a customized computer system is user-friendly and easy use. (Photographed by Ji-Xion Chen)
The feature of this system includes, fingerprint identification, regional network (Wi-Fi) share to 500 computers, provide register, treatment, pharmacy, medical technology divisions to use, the SOAP often used by doctors and ICD-10 system, and quick input key to adopt local disease and drug names for doctors to key-in data efficiently.
Ms. Hong mentioned this system can be operated on easy carry tablet or laptop. All the data will be uploaded to Clouds and saved into Big Data for future analysis. This system would not only save time and manpower, reduce error rate, eliminate times of transportation making free-clinic more compassionate and efficient.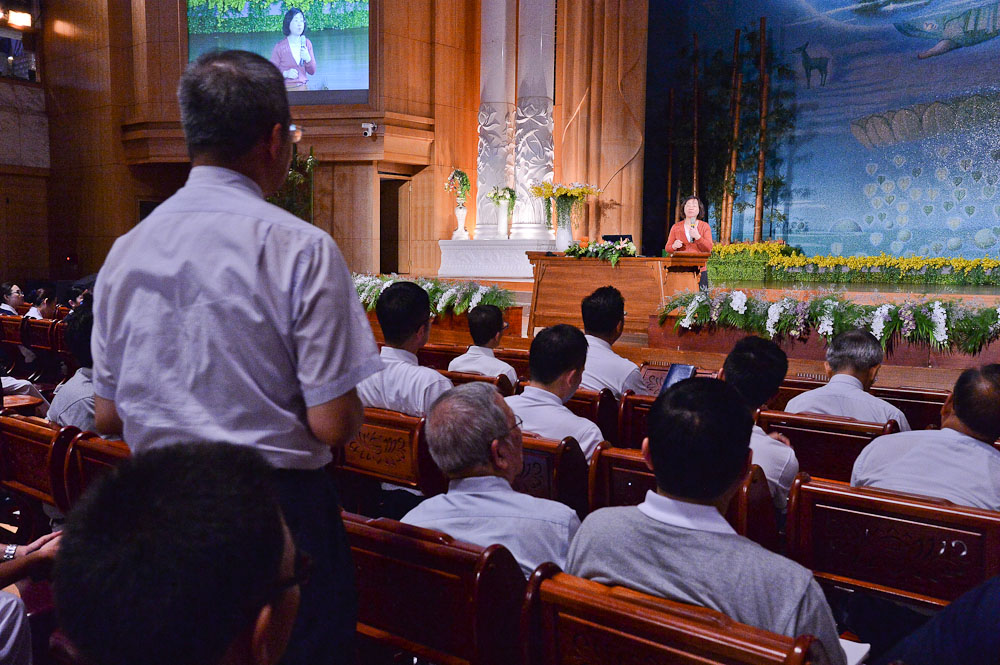 Every attendee was interested in the computer system made by ITRI. Ms. Hong had a Q&A session for every question. (Photographed by Ji-Xion Chen)
Volunteer who joined nine years of free-clinic from Taipei, Fang-Pei Su, a pharmacist always participates in both national and overseas free-clinic. She said every volunteer clinic has only two chemists to deal with all the prescriptions from all doctors. If fingerprint identification is used, it will make us easily and quickly to fill prescription. In different counties, if the prescription of the common local diseases and epidemic can be memorized, it will make easier job for pharmacist to prepare drugs before they leave their home county. Ms. Su is looking forward to having this system assist their work to make free-clinic more effective.
Saving lives have no time to lose; the busiest task needs mindfully heart to implement refined-management, it's not only for medical field but also in our daily lives. We can live with refined-management life, which will lead the beauty of wisdom and compassion.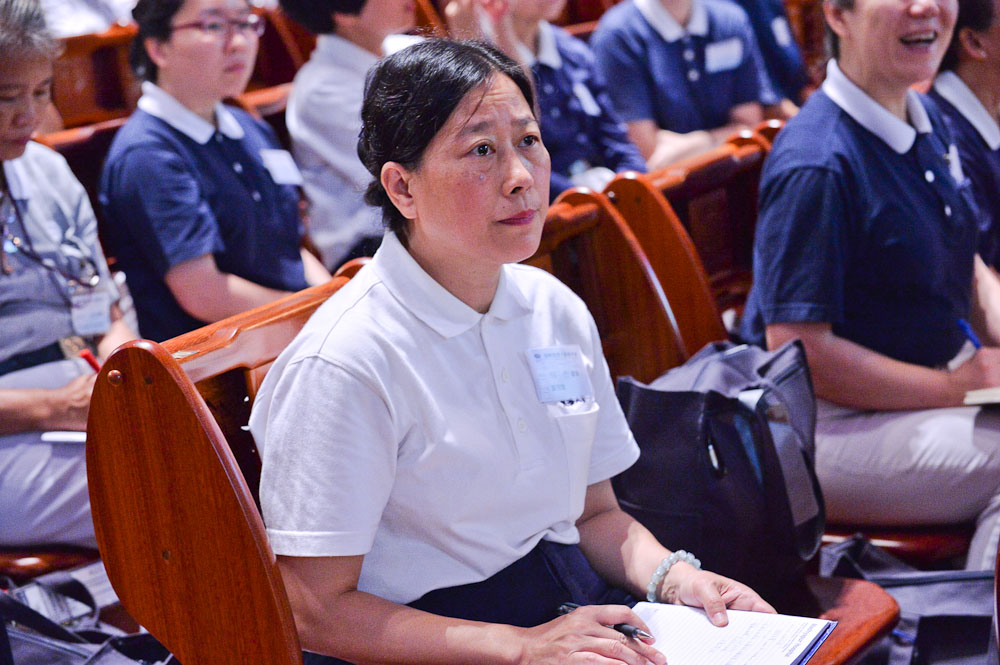 Sister Fang-Pei Su learned from Ms. Lee's presentation that Master Cheng Yen's spirit, be mindful in refined-procedures will make every task run smoothly. (Photographed by Ji-Xion Chen)