Written by Jessica Huang Translated by Xenia Huang
Proofread by Jennifer Ying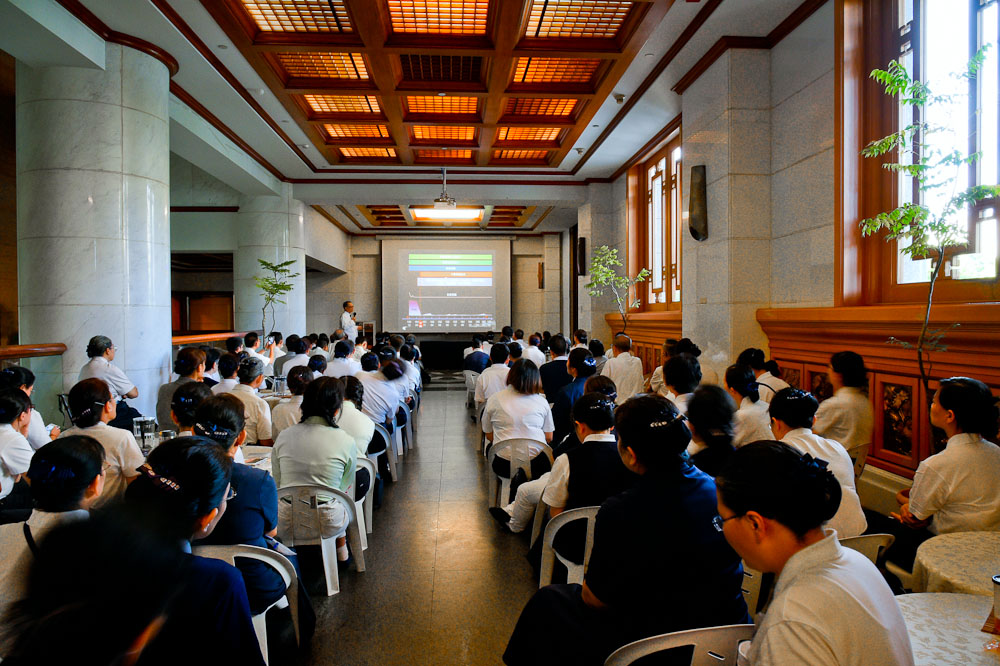 In the afternoon of the first day of TIMA annual convention, Oct. 3rd, 2017, there were several concurrent sessions offered for attendees to elect. The session of Chinese Medicine was held in the corridor of the second floor inside the Jing Si Hall. Before the session begins, the host, Jian-zhong Chen, the director of Chinese Medicine of Taizhong Tzu Chi Hospital said: "We thought we only had 20 people registered for this session …", however, with more people coming in, it is estimated that at least seventy people were there. It is a good surprise, and everyone can sit closer to speakers to get a better view.
It was a three-hour session with four Chinese Medicine doctors as speakers. Zheng-gzhe Zhong, the convener of TIMA Canada was the first to share, then followed by Mr. Chen, the director of Taichung Tzu Chi Hospital and Ren-shu Wang, the Deputy Superintendent of Taichung Tzu Chi Hospital. Another speaker, Dr. Ming-huang Liao from USA, greeted everyone in English, and kindly reminded attendees not to hesitate to ask for translation assistance if it is needed. In fact, there are many language translations provided through the entire Convention.
The topic that Dr. Zhong shared was "Looking back over the history of Tzu Chi Medicine Mission in Canada, there has been nothing but a true heart along the way". Dr. Zhong spent more than 40 minutes to walk people through medical services that TIMA Canada has been providing in recent 5 or 6 years. He said: "I am looking forward to networking with Tzu Chi Chinese Medicine doctors in the world, because we are one family." He also introduced two partners, "Dr. Xian-ru Gao and Sister Xiao-fen Luo, a super administrative staff and senior nursing instructor. Without them, the TIMA Canada could not have been running so smoothly today."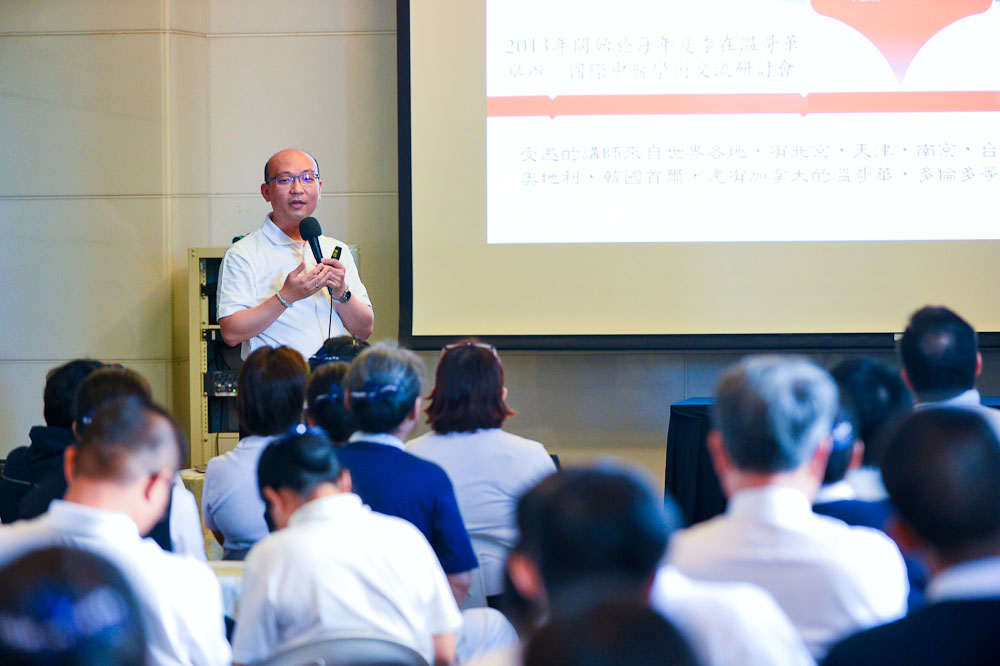 Dr. Zhong greeted attendees by asking where they are from. He found that, other than Taiwan, China and Hong Kong, there were many Chinese Medicine doctors from all over the world, such as Malaysia, Australia, USA, Indonesia, Singapore and Philippines. Canada just celebrated its 25th anniversary of Mission of Medicine on September 24th, 2017, all its members to this point are Chinese Medicine doctors. The reason was that there is National Healthcare in Canada, and all (Western Medicine) hospitals are run by government. Dr. Zhong added, "Therefore, there is a notch for Chinese Medicine to make contribution." Dr. Zhong had visited Jing Si Abode to see Dharma Master Cheng Yen for the first time on August 4th, 2011. After returning to Canada, he and others then held a free clinic in Canada for the first time. The first free clinic was co- organized with a local Asian Association. Through the three-day event organized by the Taiwan Culture Festival, Dr. Zhong's team is mainly to promote environmental awareness, and to provide free medical services. In those three days, the team served more than six hundred patients." Dr. Zhong went on, "Ever since the first free clinic, the number of patients served has been increasing every year, and it is more than five thousand patients received services over the past six years. "
The former Mayor of Vancouver, who was impressed by free clinics, told Dr. Zhong, "First of all, I was quite surprised to discover so many people in Canada who are interested in Chinese Medicine; secondly, out of these people, so many are non- Chinese."
Dr. Zhong continued, "We attended the 2012 TIMA Annual Conference in Taiwan, and established TIMA Canada after returning home. In the beginning, we had only four Chinese Medicine doctors at that time. Today, we have more than one hundred and ten Chinese Medicine doctors joined TIMA Canada. As a matter of fact, there are also many dentists, Western Medicine doctors, and pharmacists who would like to join TIMA Canada, but we need to wait and see the best opportunity to include non-Chinese Medicine doctors to join.
Over the past five years, TIMA Canada has been providing aboriginal tribes as well as public hospitals with free medical service. When a disaster happens, TIMA Canada also took part in the disaster relief with free clinics. As for training people, TIMA Canada has been working with every effort to invite world's outstanding Chinese Medicine doctors to teach in Canada. Annual Conference is also an important event to attract more than 200 people to participate each year for five consecutive years. Dr. Zhong also extended his invitation to attendees at the session to join the Conference in Canada.
In 2015, Vancouver College of Traditional Chinese Medicine became a part of Tzu Chi Medical Mission of Canada. The College attracts students from 14 countries, and fosters them to become Chinese Medicine doctors. In the end, Dr. Zhong shared the future plan of the TIMA Canada, including:
1. Working with the Chinese Medicine department of public universities to establish a clinical and teaching center. The plan is expected to begin in April, 2018.
2. Planning a Clinical Medicine Institute of Chinese Medicine where one can earn a doctorate degree, recognized by the US.
Dr. Zhong welcomed attendees to consider this two-year on-job training as a great opportunity.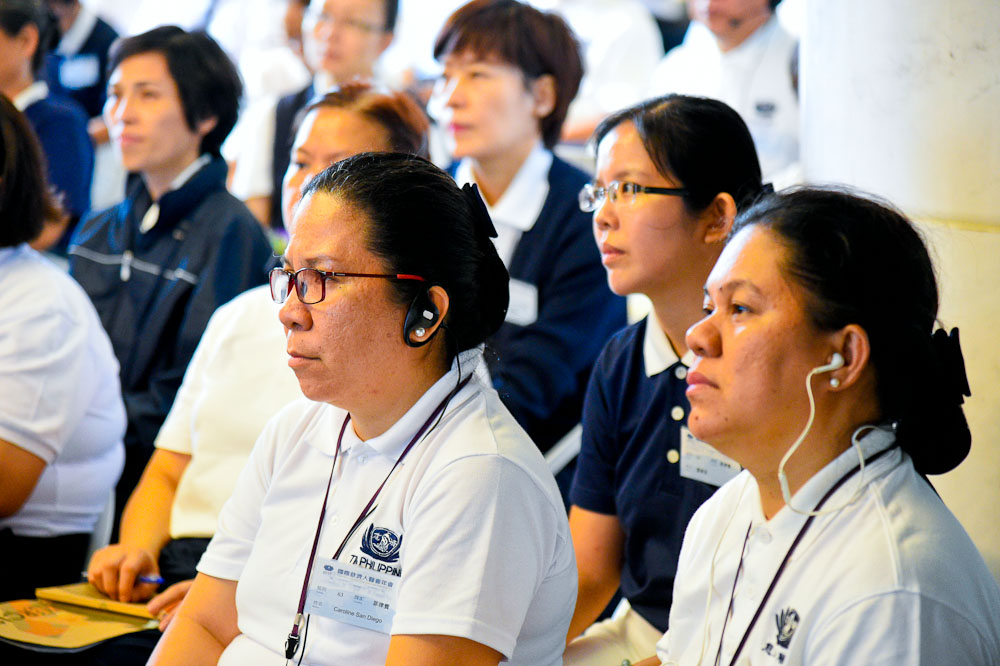 A young attendee asked: "Can I earn the doctorate degree by using long distance learning from Malaysia?" Dr. Zhong replied: "Some credits can be earned by learning with videos, as for the practices, students should come to class physically in Canada. After all, Chinese Medicine is a profession that needs practices"
To wrap up his speech, Dr. Zhong announced in advance that Dr. Xian-ru Gao will share his stories of affinities with aboriginal tribes tomorrow.
The host, Jian-zhong Chen summarized the speech, he said, "Master expects us to make a good use of our talents, that is to purify people's hearts and minds, to build a harmonious society, and to free people from disasters. And I think the Canadian team has given us a great example."