Drafted By Taichung and Taoyuan FLT (台中/桃園外語隊)
Edited by Lin Hsiuhsu (林修旭)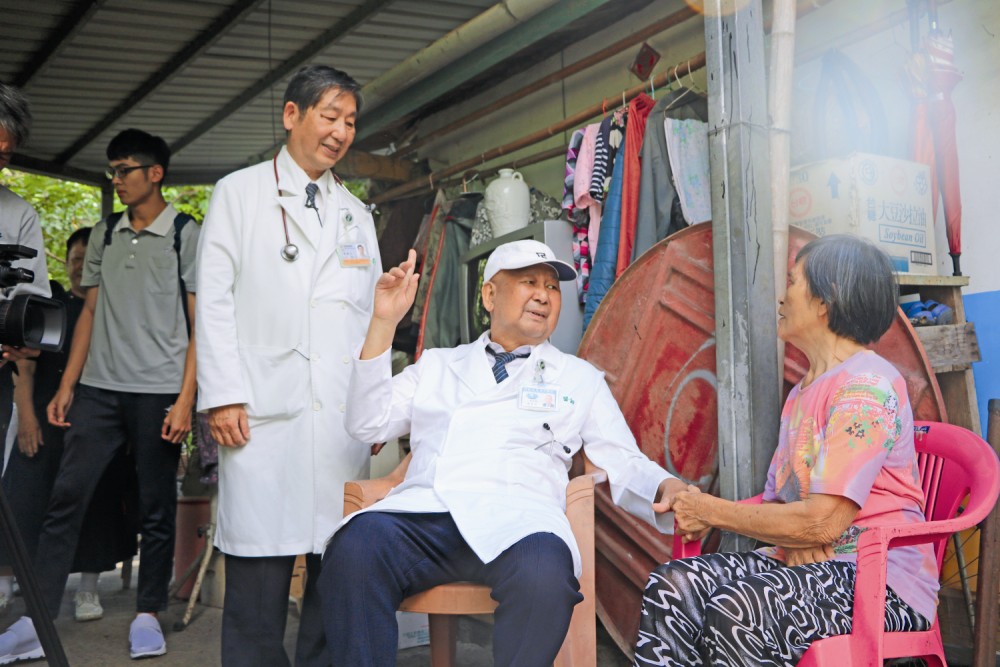 GranD referred Granny Pan, who sufferred multiple chronic conditions, to Dr. Li Jin-San, GranD's younger brother
From a Farmer's Son to a Philanthropist Surgeon—A Lifelong Guard of Taiwan's Rural and Remote Health Care
The life story of Li Sen-Jia, M.D., a surgeon with Yuli Tzu Chi Hospital and a dedicated TIMA doctor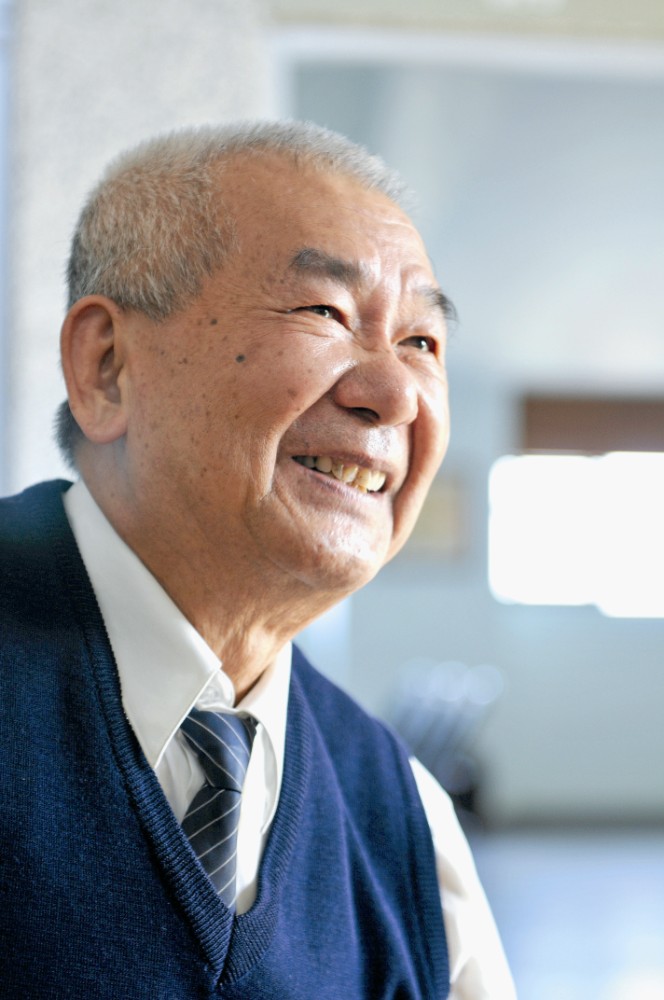 Li Sen-Jia (李森佳) (1938–2017), M.D. and a surgeon, was the eldest son of seven siblings born to a poverty-stricken banana-farming couple in 1938 in the countryside of Cishan, Kaohsiung in southern Taiwan. Dr. Li was a dedicated surgeon and was among the first doctors and medical professionals in the Kaohsiung/Pingtung region to join TIMA to contribute to Tzu Chi's mission of medicine. The doctors and staffs of Yuli Tzu Chi Hospital in Hualien nicknamed him "GranD Li" and the patients of rural Hualien called him "Papa Li". He was also known as "Big Dr. Li" in contrast to "Little Dr. Li" (or Buddy Li), a nickname for his younger brother Dr. Li Jin-san (李晉三). The life story of the brother doctors was adapted into the Da Ai Drama Love's Horizons (生命桃花源). Upon the diagnosis that his cancer has metastasized to the brain in 2016 and the bones in February this year, Dr. Li disclosed his bucket list: 1. to make house calls to his patients in Hualien for one last time; 2. to have a private audience with Master Cheng Yen; and 3. to donate his body to further medical education and science upon death. To fulfill Dr. Li's wishes, everyone sprang into action all at once. Dr. Li's last IDS (integrated healthcare delivery system) free clinic was conducted on July 6. A gathering of appreciation was held by staffs at Yuli Tzu Chi Hospital, along with brothers and sisters of Tzu Chi from Kaohsiung, to celebrate his devotion and contribution to the hospital, the patients, and rural and remote health care. After the anniversary celebration of Hualien Tzu Chi Hospital, Dr. Li met Master Cheng Yen, and was honored and blessed by Master during the audience. On September 15 at 7:25 in the morning, Dr. Li breathed his last gasp of air at Kaohsiung Municipal Kangshan Hospital, and embarked on his immediate journey to Tzu Chi University in Hualien, where he will lay in temporary peace before perfecting his lifetime of devotion to further medical science, care and education as a silent mentor for new generations of doctors to come.
Dr. Li was retired in 2002 when he closed his clinic in Kaohsiung. Ever since then, he served as a volunteer doctor constantly. A new chapter in his career of practicing medicine started in 2009 when he decided to give Yuli Tzu Chi Hospital a hand, a generous and experienced hand needed desperately, to quench the doctor drought in the Hospital and rural Hualien. Dr. Li's medical practice hit the mark of 50 years in 2015, a milestone that was celebrated by his peer doctors in Taiwan Medical Association (TMA).
Upon his arrival, Dr. Li became the most experienced and senior surgeon at Yuli Tzu Chi Hospital. Unfortunately, he was diagnosed with lung adenocarcinoma (lung cancer) in 2011. Over the past six years, Dr. Li had suffered from the pains in fighting against the cancer. Despite the suffering, so long as he was physically fitted, he would continue his four-day-a-week clinic for outpatients. Other than that, he would lead the home-caring IDS team of Yuli Tzu Chi Hospital to provide quality health care to reach out to patients in the rural and remote southern Hualien on Thursdays in the afternoon. He revealed in an interview with Da Ai TV that the benefit of being a doctor-turned-patient was that it was much easier for him to convince his patient(s) that even a patient with lung cancer can live a normal life so long as s/he follows the doctor's mandate to the letters. Dr. Li's illness took a downturn in May, which forced him to withdraw from medical practice and to return to Kangshan for recovery. Knowing what the metastasis to the brain and bones really meant as a surgeon, he was very much concerned about the 'friend' patients he attended in the past years on the house call. Most of the patients were with chronic diseases. Under the collaboration of Hualien Center of Da Ai TV and Yuli Tzu Chi Hospital, Dr. Li's last house call outing was made on July 6. He was kept by his old friends' company, among whom were Dr. Hong Hong-Dian (洪宏典), the couple of Dr. Ye Tien-Hao (葉添浩) and Pharmacist Chen Hong-Yan (陳紅燕), and Dr. Li's wife Madame Li-Lu He (李呂鶴). It was like the numerous house calls the company of 4's of TIMA medical professionals in the Kaohsiung/Pingtung regions had made over the decades, only that during the sessions Dr. Li told his patients that Dr. Li Jin-san, Buddy Li, would took his place to take care of them; be a good patient and listen to his mandate.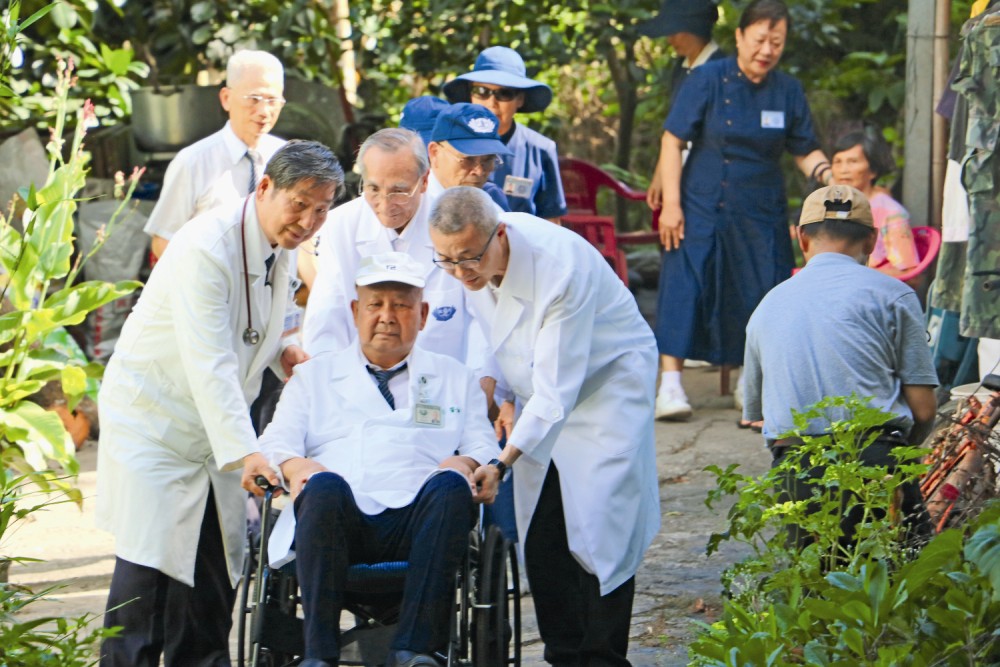 Dr. Li Jin-San of Yuli Tzu Chi Hospital, Dr. Hong Hong-Dian and Dr. Yeh Tien-Hao [left to right], supported Dr. Li Sen-Jia [middle] with care during Dr. Li's last IDS clinic.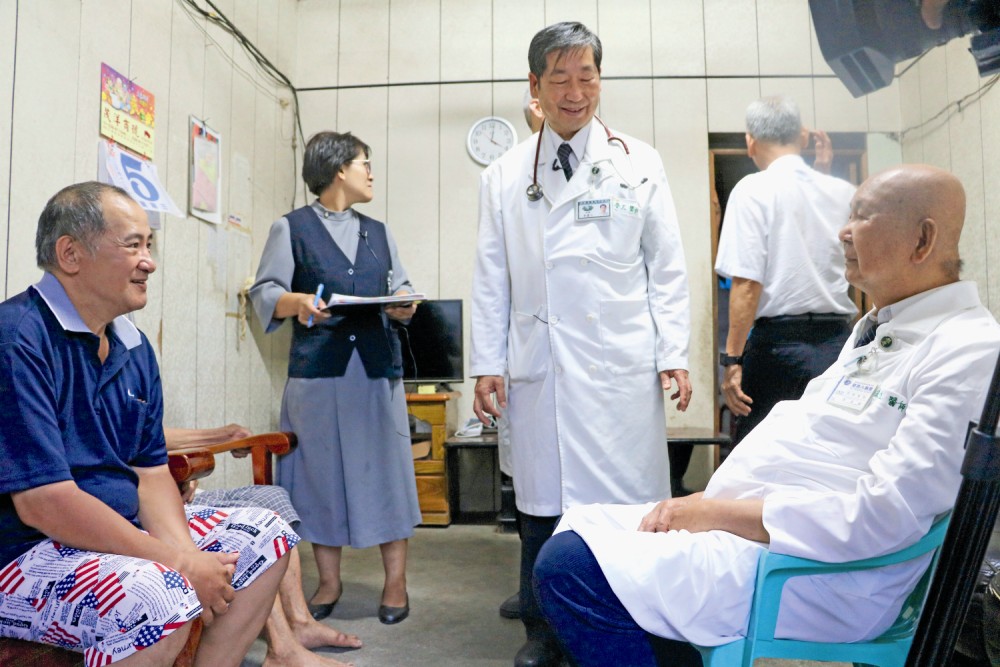 Mr. Ma Guo-Yuan thanked Dr. Li for his fatherly caring that helped him survive the great pain of rehabilitation after a second stroke.
Thank you GranD Li for seven-years' self-burning to guard life and health of rural Hualien
Dr. Chang Yu-Lin (張玉麟), Superintendent of Yuli Tzu Chi Hospital, recalled that back in 2009, GranD Li was already over 70 and was retired. He had been enjoying his retirement with TIMA professionals in providing free clinical services in Kaohsiung/Pingtung region. After learning that the Hospital and the region was in more desperate need of his arms, Dr. Li decided to come back to the frontline as an old soldier surgeon to guard the health care of the region. He moved to Yuli with his wife. In 2011, he advised his younger brother, Dr. Li Jin-san, who is 12 years younger than he and is also a surgeon to join him at Yuli Tzu Chi Hospital. Ever since then, the brother doctors became guards of health care for the rural and remote southern Hualien. Dr. Li Sen-jia was nicknamed GranD Li and Papa Li, and Dr. Li Jin-san, Buddy Li. With the two brother surgeons, the Surgical Department of the Hospital had become the beacon that secured the areas it blanketed in health regards. Dr. GranD Li shouldered the responsibility of home-caring IDS services at the Hospital. He reached out across rivers and valleys to patients by making house calls to the aboriginal tribes in the deep mountains for those who otherwise had poor, if not denied, access to qualified, not to mention quality, medical care. During the same period of time when he was with Yuli Tzu Chi Hospital, Dr. Li had achieved another milestone by giving back most of his payment: he had made 6 Honorary Board Member donations in the name of himself, his wife, parents, and parents-in-law; in other words, his was a lineage of 6 Tzu Chi Honorary Board members. (As press time, it was revealed that two more HBM donations were underway prior to Dr. Li's death this year.) Dr. Li's selfless devotion and generosity has made him a role model of a philanthropist doctor that lived up to his father's teaching: Practice for patients, not for pennies.
Zhan Shu-Yang (詹舒揚), Producer of the Da Ai TV program Tzu Chi Doctors: Guards of Love (志為仁醫守護愛) mentioned in the gathering of appreciation in July the cause and purpose of the event, "Since 2014, I have started the project of a documentary for Dr. Li's life story. Dr. Li had been diagnosed with cancer, though; he was at peace with the disease and lived a normal life with the discomfort from chemotherapy. He attended the morning recitation, practiced medicine, and engaged in community health promotion service, as usual. When he returned to his residence in Kangshan, he'd do the farming, weed, and trim the fruit trees. He never treated himself as a patient." In the camera, Mr. Zhan observed that GranD Li was reticent and might look serious, but under the seeming seriousness was a heart of compassion, kindred, and generosity—a heart that was too ready to give a hand to those who were in need, the avatar of a composed surgeon in the daily life. Earlier this year, GranD, under the company of his family, made a trip to Hualien Tzu Chi Hospital to sign the paper of his will to donate his body for medical educational purpose after death. "We feel sorry to learn that the cancer cells have spread to the brain. Considering the decrease in his stamina, Grandpa cannot be here with us for too long. We both are running out of time. We have to sprint against time to realize Grandpa's bucket list."
Among the invited guests to the gathering of appreciation was Dr. Li Yi (李毅), Secretary of Medical Affairs of Hualien Tzu Chi Hospital, and host of Tzu Chi Doctors: Guards of Love. He was invited to introduce Dr. Li Sen-Jia's contributions. After his talk, he invited the colleagues on site the gathering to put down on the cards in the shape of a Bodhi leaf their own appreciations and wishes for GranD Li. Many were seen to be in full tears when they wrote the cards.
GranD Li's younger brother, Dr. Li Jin-San, a.k.a. Buddy Li, also talked in the gathering. He thanked his eldest brother Sen-Jia for inviting him to join Yuli Tzu Chi Hospital to guard the rural health care. "Dear brother, thank you for calling me to Yuli. This has been a journey of wonderful scenery and sweet memories. I am more than happy to invite each and every one of you to join our journey in Love's Horizons," which is the life story and docudrama of the the patient, loving brother surgeons.
After the gathering, GranD Li hit the familiar road again for his last house call at around 1:30PM. He was kept company by Dr. Hong Hong-Dian, the couple of Dr. Yeh Tien-Hao and Pharmacist Chen Hong-Yan, and GranD Li's wife, Madame Li-Lu He. This was the same company of TIMA members that toured Taiwan for decades to provide the poor and the needy in rural and remote Taiwan with free quality clinical services they needed and deserved. Due to the expected bumpy ride that might drain his remaining stamina, a team was grouped to take close care of GranD Li during this "Dream Mission" to help realize his bucket list.
Shi Rong-Lai (石榮來), 54 and single, lived alone and was Dr. Li's patient in the remote Bunun tribe of Izukan (Lun-Tian/崙天部落). Due to severe gout, both of his feet were severed from beneath the knees. He was confined to a wheelchair and was emotionally charged when he saw his Papa Li, flanked by Dr. Li Jin-San and Dr. Yeh Tien-Hao, walked into his living room. "Papa Li, I missed you so much. Thank you for curing me. I am clean now. I don't drink anymore." Mr. Shi said that besides the physical ailments of gout, he was bothered by alcoholism. It was Papa, who patiently talked him out of drinking. "'You'd be fine with gout if you stop drinking', Papa urged," said Shi. "I really am in great debt to Papa for pulling me out of the disorder, and prevented my illness from going bad to worse."
After bidding farewell to each other, the company of doctors and staffs proceeded to Lishan Village of Zhuoxi Township (卓溪立山部落) to visit an eighty-year-old grandma patient, Pan Yu-Li (潘玉里). Granny Pan was handicapped, and lived with multiple chronic conditions of cerebrovascular disease, hepatitis, hypokalemia, and hypertension. She lived with her son, who suffered divers' disease (DCS). Both of them counted on GranD's weekly homecaring clinic over the years. Holding GranD's one hand, Pan detailed her improvement. She had followed strict medical mandate and dietary advice so that she had resumed limited but functional mobility, and was able to cook meals by herself. While Pan thanked him for his care and advice over the years, GranD listened silently and nodded his agreement. Meanwhile, he reached the other hand to Buddy Li and turned to Granny Pan, "This is my younger brother Li Jin-San. He will take my place to take care of you from now on." Biting her lips and with tears in the eyes, Granny Pan nodded her understanding and made the greatest efforts she could to try to stand up to see GranD wheeled off. Her tears could no longer be held and washed down her face as GranD's motorcade started to pull off. In the tear-flooded eyes were her sincere gratitude, deepest sympathy and hearty wishes for GranD.
In a couple of hours' drive, GranD's team arrived at Damayan (馬遠) of Wanrong Township (萬榮鄉) to visit Ma Guo-Yuan (馬國遠), a single parent aged 52, whose left hand fingers were amputated in a work accident. He had survived two strokes but was thus handicapped. He worked hard to rehabilitate himself in the hope that he could support his family. Guo-Yuan recalled that he was in a coma after the second stroke, and was saved after the surgery. After discharge from the hospital, he returned home for rehabilitation. The rehab process rollercoastered, and so was his mood. During each and every follow-up visit, GranD would offer Guo-Yuan with the most thorough checkup, and took heed of his dietary, daily life and rehab progress. GranD paid equal attention to the health of Guo-Yuan's aged parents, who lived with him. When the paramedic took his blood pressure, GranD would sit silently by Guo-yuan's side, caressing him on the head like a father did on his wounded child. The gesture was warm and comforting, which had helped lift him out of the melancholy he suffered during the rehab. In this would-be last house call, Guo-Yuan had observed that GranD was no longer as agile and sharp as he used to be; he was deeply moved by GranD's remembering him and arranging the house call to visit him. The two of them sat side by side, looking at each other in mute exchange of communication. Finally, GranD took Guo-Yuan's hands in his and whispered his wishes for him, which, we believe, would motivate him to move on.
Chiu Li-hua (邱麗華), a social worker on Yuli Tzu Hospital's staff, was in charge of the schedule arrangement of rural IDS program at the Hospital. She pointed out that for the past seven years, Dr. Li had led the medical team to visit the patients in the rural and remote areas of southern Hualien. Most of the areas are aboriginal tribes of Bunun, Taroko, and Seediq in the mountains. Upon learning GranD's hope for a farewell house call, many were hoping to see him again for one last time. Yet considering the physical condition and the risks of jeopardizing his safety of life by exhausting him, GranD could not answer to each and every patient's call this time. Ms. Chiu recalled that "GranD's top concern was always the patients. On the trip home from a house-call day, he usually, if not always, discussed with the team what a specific patient was in need, and what more could be done to help him/her." Chiu said that parting is a lesson that we all have to face and learn, including herself. She continued that upon the initiation of the "Dream Mission" to fulfill GranD's bucket list, she had been learning to bid farewell to him for as many times as could be when she reviewed the patient's files and made contacts with them to arrange this house call itinerary to visit the patients that GranD were most worried about and had longed to see for a last time. "During his service over the years, GranD has brought us a profound treasure of fond memories. He has accompanied the numerous patients of his through the morbid valley of their life. I am so lucky to be part of this mission. This is a journey that I shall hold dear through my life. I have hoped to not to shed a tear during today's house call mission. I am glad that I did," said Ms. Chiu. Nothing can be more rejoicing than the elimination of regrets. Nothing can be more perfect than to help GranD perfect his bucket list.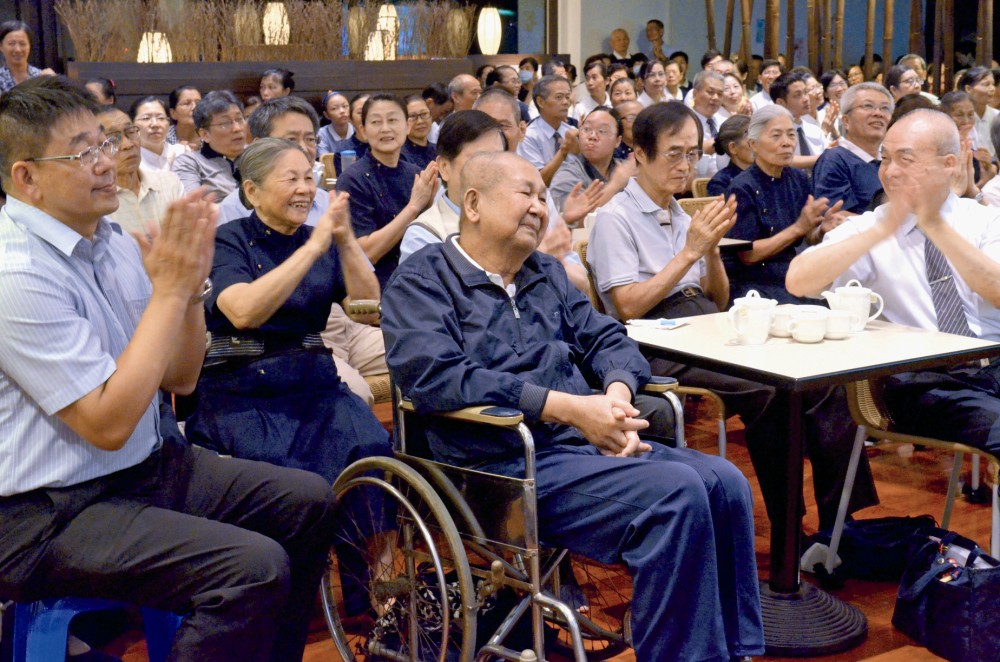 The Tzu Chi Dharma family dedicated the concert in Dr. Li's honor to bless him and encourage the many others suffering pain from illness.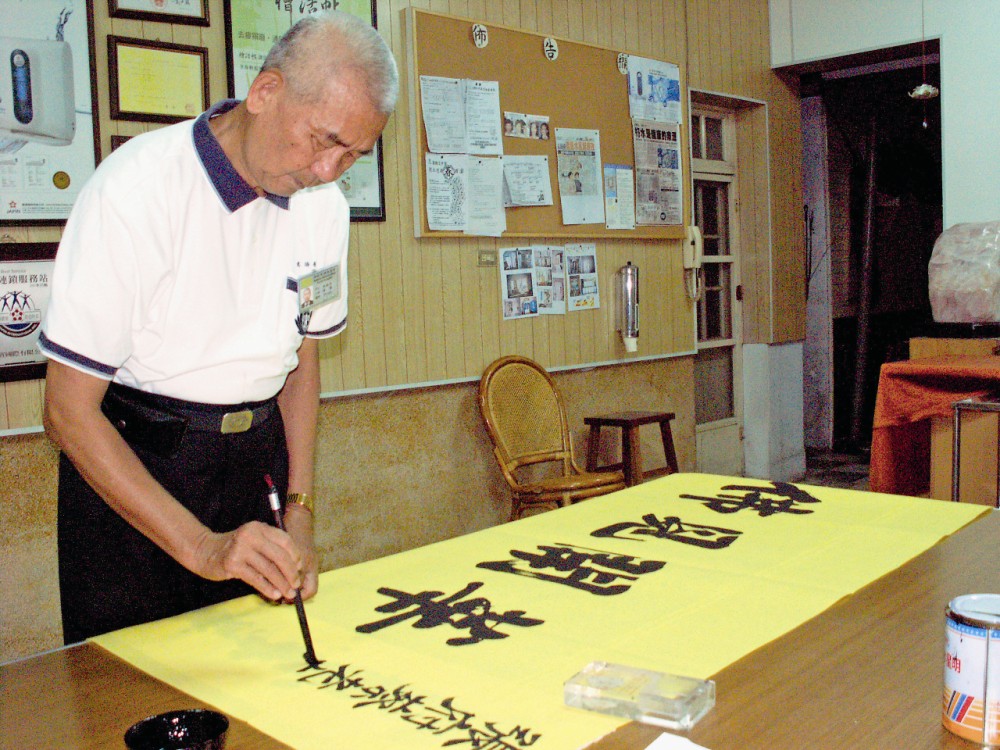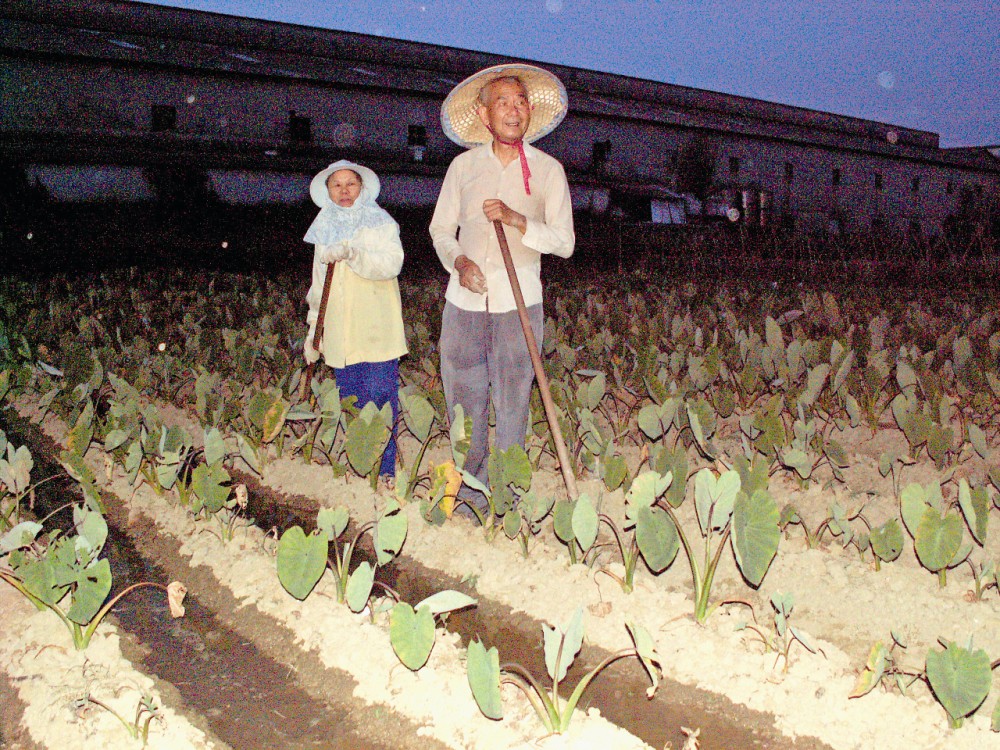 A Full House of Blessings for a Regretless Life of Devotion
At around 6 p.m. on July 23, the Sun was half an hour from setting and the subtropical city of Kaohsiung was basking in the sun's residual heat. The cicadas were chirping, and the frogs began to croak as the night fell. Meanwhile, the Jing Si Books & Cafe located to the east corner of Kaohsiung Jing Si Hall on the 1st floor was poured in by a long queue waiting to sign-in for their cordial wishes. Within a short while, the Cafe was crowded with more than 230 members of the Tzu Chi family. The crowd were no ordinary concertgoers. They were coming to the concert A Regretless Life of Devotion (生命不留遺憾) dedicated to honor and bless the cancer-fighting Dr. Li Sen-Jia they love and respect for his more than 50 years of devotion to the guard of the poor and rural health care.
With the spread of the cancer cells to the brain, Dr. Li's mobility of was slipping away, which forced a complete withdrawal from his active clinical practice. The dharma family of Tzu Chi in Kaohsiung thus decided to hold a concert in his honor to celebrate his lifelong devotion to the care of the poor and the rural patients, and to offer him with the deepest appreciation and sincerest blessings. At around 7 p.m., down the gate of the Cafe was seen Dr. Li, composed and rosy in cheeks, walking in in difficult yet steady steps, with Dr. Yeh Tien-Hao close at his heels to offer momentous support from behind, in case need would arise. Dr. Li was cheered by a thunderous applause and nodded his appreciation as he approached the stage. "Dr. Li was the Great Ferryman in incarnation. He is 77 and hasn't stopped working. He is being treated (for his cancer), and is treating patients at the same time. Amid his own ailment, he is as determined as he was in devoting himself to the relief of pains from the afflicted in the rurals. What a diamond-willed bodhisattva of medicine Dr. Li is!" celebrated Master Cheng Yen in a footage from 2013 for GranD's remarkable career that chartered new horizons of providing medical care with love and the courage to give death the cold shoulder for a life's perfection.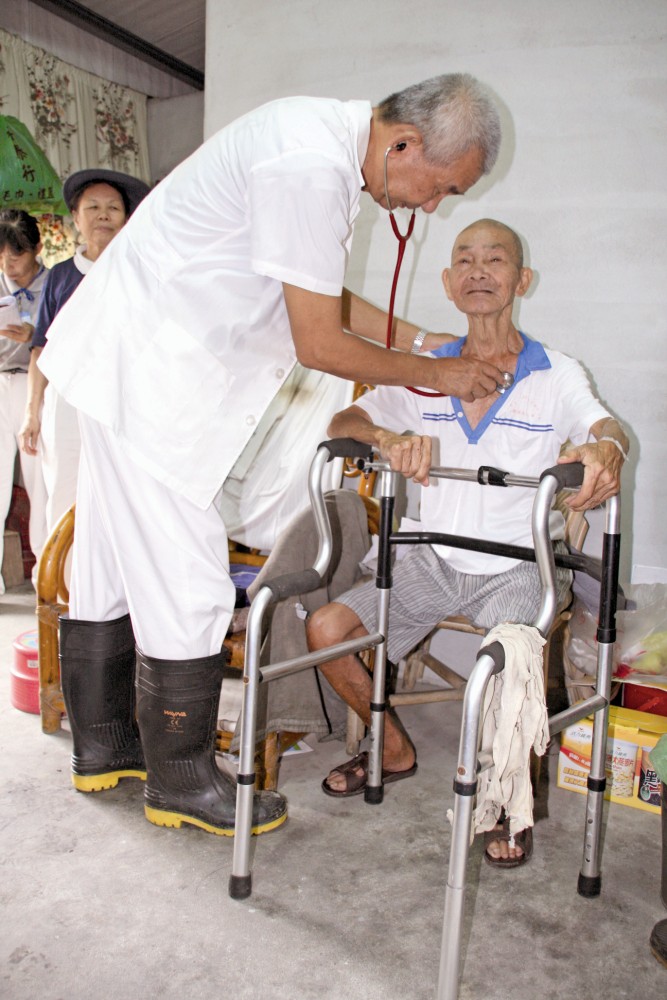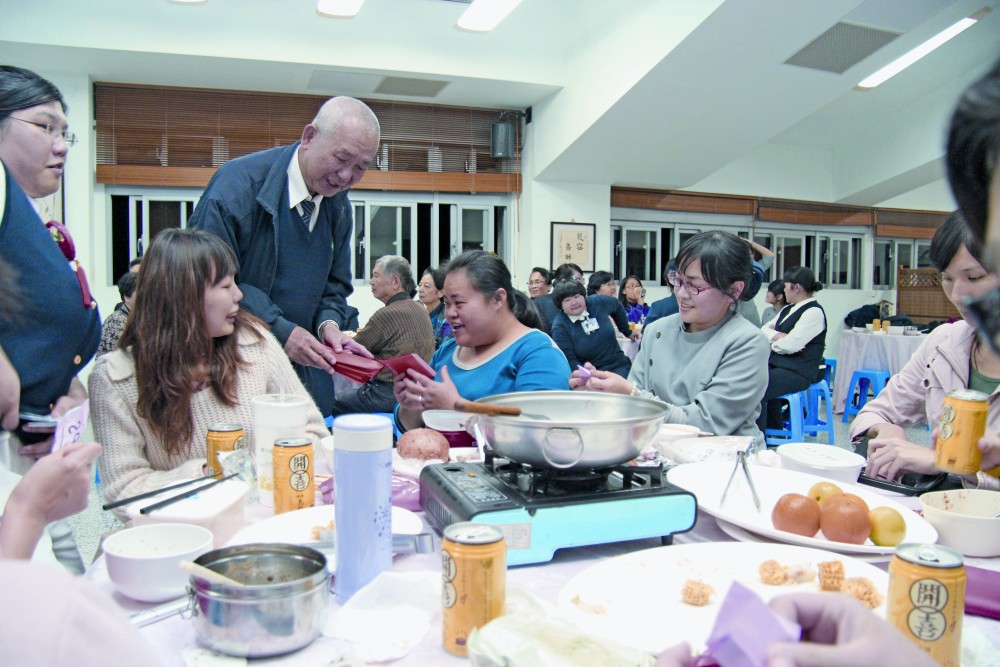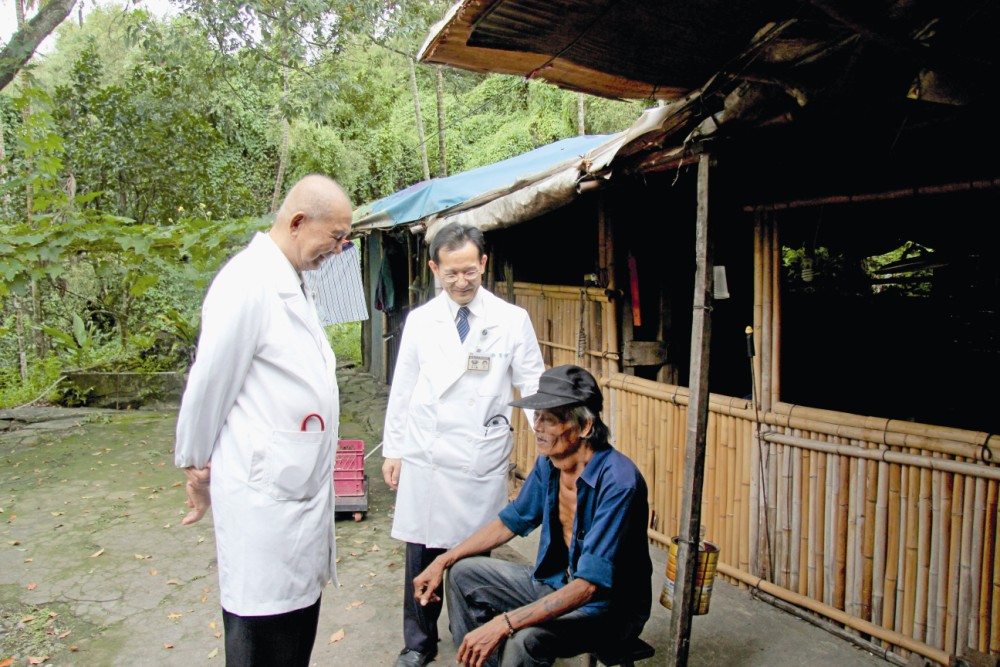 Good Practices Make Good Deeds
The early 1940s saw Taiwan, a Japanese colony at that time, amid the raids as the Pacific War between USA and Japan peaked. Born in such a raucous time and a place like Taiwan, where resources were mobilized for the War, poverty was a commonplace. The harshness could be imagined when Dr. Li Sen-Jia was born as the first child in 1938, a son of the Silent Generation, to a banana-farmer's family in the rural Cishan of Kaohsiung. He had seen six brothers and sisters born to the family over the following decade-plus time span. In his early childhood, Dr. Li had to help take care of his younger brothers and sisters, and occasionally farming, when his parents were busy farming bananas and pigs, and did odd jobs to increase income to support the family. He did not go to school until he was nine years old. Influenced by his parents, he was hardworking and achieved among top students in his class, and was thus appointed leader of the class year after year. Dr. Li's hardworking earned him the admission to the medical school, and became a doctor. Understanding the affliction of poverty, Dr. Li's father expected him to "practice [medicine] for life, not for money. For those who suffered poverty like us, we knew all too well what a penny is worth to them. I want you to be a doctor of compassion: Practice to relieve not only the physical but also financial pains from the poor."
A Doctor in Need is A Doctor Indeed
After graduation from the medical school, Dr. Li returned to Kaohsiung, and started his own clinic in Kangshan. Doctor Li got married. His wife, Madame Li Lu He, went to worship the Buddha routinely at the local temples, and made her acquaintance with Mrs. Wu Chen Yu-Ti (吳陳玉梯), a Tzu Chi volunteer. The couple had joined Tzu Chi in 1985, and started to engage themselves in relief work for the poor and the needy. Back then, the doctors in the Kangshan neighborhood, were still making house calls, an old rare, if not obsolete, practice now. Up until 2002 when he was retired, Dr. Li insisted on making house calls to patients, especially the needy who were alienated from accessible quality medical care by poverty and mobility. In fact, Dr. Li's compassionate practice could be said to start from day one of his medical career. He bore in mind his father's expectation for him, "for life, not for money". According to Liang Mei-Shan (梁美善), a close friend to Dr. Li, back in the days before NHI, National Health Insurance, the needy were charged for nothing at his clinic. "No wonder, he was not making money," joked she. In the past, due to poor public transportation, when Lu He and volunteers were planning to pay visits to help the needy in the remote areas, the plan would be stalled for not having a driver. When this happened, Dr. Li would stop his clinical services and chauffeured them around. To the Kangshan neighborhood, Dr. Li's residence was a logistic hub, a convention center, and a home for Tzu Chi volunteers.
Righteously Humble, Silently Gracious
Through the newspapers, Dr. Tsai Sen-Lang (蔡森郎), Superintendent of the Da-Dung Hospital in Kaohsiung, learned that Tzu Chi was planning a blessing concert in honor of Dr. Li, with whom he had gone a long way back since medical school as a classmate. He invited several other classmates to join him to the concert. In the gathering, upon seeing him, Dr. Tsai admired his classmate's silent gracefulness toward the approaching inevitable. Dr. Tsai said, "He is as composed as he was at school despite the great pain brought by his illness. Sen-Jia is a real righteous, down to earth person. We've been in close contact." Learning his joining TIMA, and resuming medical practice in Yuli at the age of 72 and from being retired for years, to devote to rural medical care, Dr. Tsai continued, "I was deeply touched by his move, and followed his wake to join Tzu Chi to offer the dwarfish effort I can. The perseverance of Sen-Jia to keep his post on the front line of rural health care at a high age and in ignorance of the great pain brought by cancer has encouraged us as his old classmates and friends. His getting weak is a sad sight, though; we admire his courage. May Buddha bless him."
Friends, members from the Tzu Chi family, and Dr. Li's family and relatives took the stage one by one to share stories they had with Dr. Li. They blessed him with sincere wishes. Through the images from the LCD projector, participants reviewed Dr. Li's lifelong devotion across time and space in 50 years: the bumpy miles he traveled, the needy patients he treated, and the silent graciousness he held in practicing it, especially when he was doing it amid his losing war to the cancer. The audience were awed by his courage, and were in admiring, sad tears. In the eyes of Dr. Ye Tien-Hao, GranD is a humble, amiable elder and earned respect of young and old. Over the past more than ten years, Dr. Yeh had followed closely with GranD on itineraries to provide the needy, at home and abroad, in the remote areas with free quality medical care. "Dr. Li is silent most of the time. He doesn't talk much. On the face of it, he is a plain, humble person; in the white coat, he takes seriously his responsibility toward his patients. He is a doctor prioritizing the patient's health. He is willing to do anything possible to facilitate treatment of his patients. He practices in his seat as a doctor, but put himself in the patient's shoes as a human. He is a role model for a young doctor like me to to follow," described Dr. Yeh when he talked about Dr. Li in the concert.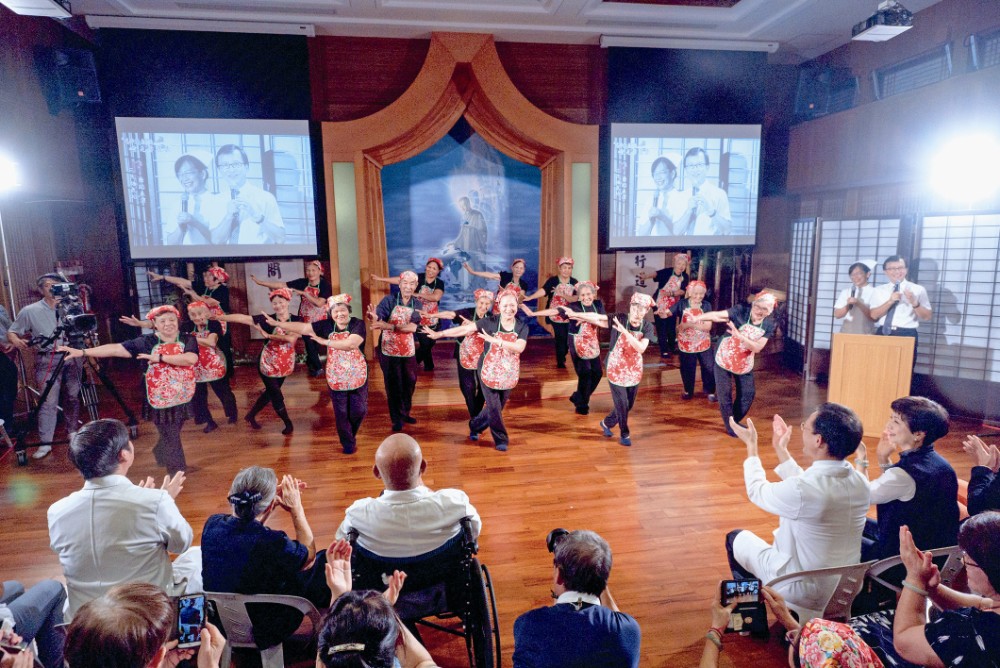 Golden-agers from Sanmin Fuqizhan performed a dance to the song When Nostalgia Strikes; led by Madam Yang Zhao-Zhi, the golden-agers shouted their blessings in unity, "Dr. Li, we love you. Cheer up!"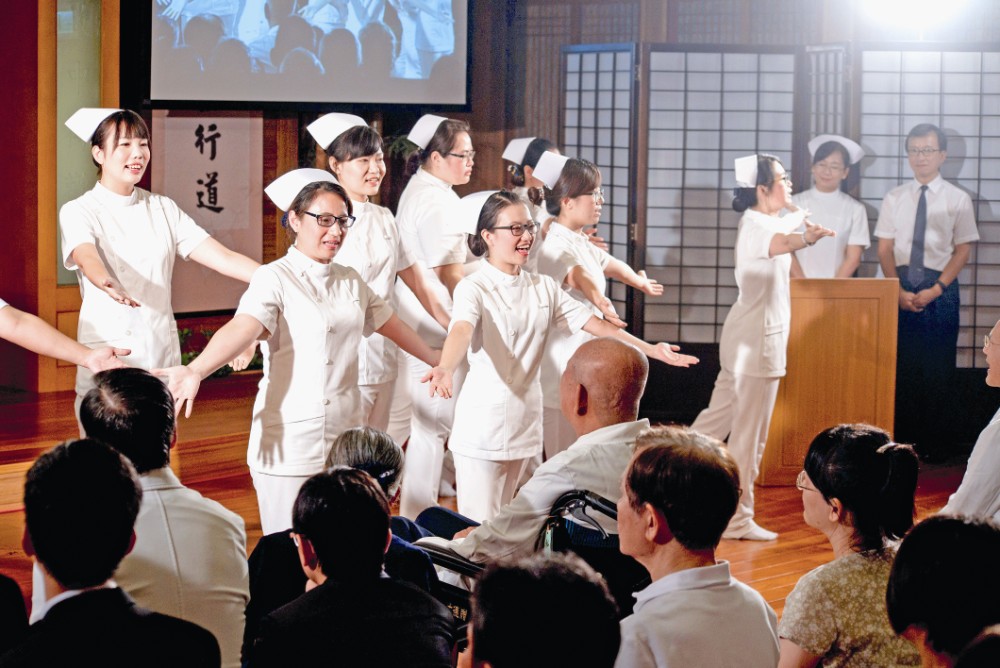 A Golden Jubilarian Couple of Tzu Chi,
The Gratitude of a Loving Pair of Children
Dr. Li Sen-Jia made his early acquaintance with his wife Lu He in the childhood when he was helping the school to convince her parents to send her to school for education. Thanks to Madame Li's introduction, Dr. Li joined Tzu Chi, and began a chapter of his remarkable devotion. Metaphorically speaking, he had burnt his life candle at both ends to light up the life in the dark rural southern Hualien in providing them with the most warmest health care they needed. One the one hand, he had to fight against his lung cancer; on the other hand, he made regular rounds at the Yuli Tzu Chi Hospital, and maintained weekly house calls to the remote and rural aboriginal tribes in the deep mountains of the Yuli neighborhood. Since 2009, Lu He had moved to Yuli with Dr. Li. She was close at his husband's heels and kept his company in the losing war he waged against the cancer while he was still practicing medicine. In a balmy tone, Lu He shared, "Through his practice at the Hospital, he can offer devoted help to the patients he cares most. It is a remedy for him to temporarily forget the pains of his own illness. Now is the time to keep his close company. When the time to step down the stage [of life] has come, all you can do and have to do is take your bow and move out. It is my hope that at the finish line, he would be as easy and comfortable as he is now." In her hope, one can visualize a strong wife behind her loving husband when seeing him off to work afar, and a humble human being that respects the Law of Nature.
In her mother's wake, Dr. Li's daughter, Ms. Li Meng-Fang (李孟芳), took the floor. She started by a loud greeting to her father, "Papa, do you feel blessed?" Dr. Li kept nodding to the rhetorical greeting to assert that he felt blessed. Ms. Li continued, "Today, should there be someone approaching my dad and said, 'Remarkable!' He would definitely respond by saying, 'There has been nothing remarkable enough in what I did to arouse a crowd and cause their inconvenience.' My father has been a silent, untiring altruist. He is devoted at all costs, so much so that we his family would regard as 'stubborn' sometimes. Yet despite our complaints, he keeps on being 'stubborn' to set an example of altruism for his children." Witnessing her parents' devotion to the teaching and practice of Buddhism in her growth, Ms Li looked at his father and encouraged him in an accepting comforting tone, "Daddy, let life reach its end when the end reaches you. Let go the body if the wreck can no longer bear the lightness of a breath. Let go your body, but keep the mind intact. Keep it sound, recite "Amitabha", and stand in peace to the final test of the inevitable." No sooner had Ms. Li wrapped up her speech than she rushed off to hug Dr. Li. She sobbed and cheered her father, "Daddy, go! Go! Go!"
Toward the end of the concert, Dr. Li's only son, Mr. Li Guo-Wei (李國維), stepped to the front to thank everyone for coming to the concert and offer the most sincere blessings for his father. He then continued sensibly, "I've been afraid of Father since I was a boy for he was serious. I was beaten frequently. Yet what my father did will serve as the best example for us as his children. My father has been a fighter for life and is a brave warrior of life. We are proud of him." Taking the advantage of the occasion, Mr. Li expressed his love for his parents in a loud voice, "I love you." The Li family were then seen to hug together in sobbing tears with gratitude. After that, Dr. Li was wheeled to the front by Dr. Yeh Tien-How. Audiences were seen to offer bouquets of flowers as tokens of appreciation and blessings, and were requesting to take pictures with Dr. Li, who had been silently smiley throughout the night. Despite that he had to labor for speech, he uttered something that surprised each and every one at the gathering, "There has been nothing remarkable enough in what I did to arouse you and cause your inconvenience,' a response to the crowd that was foretold by Dr. Li's daughter. Remarkable!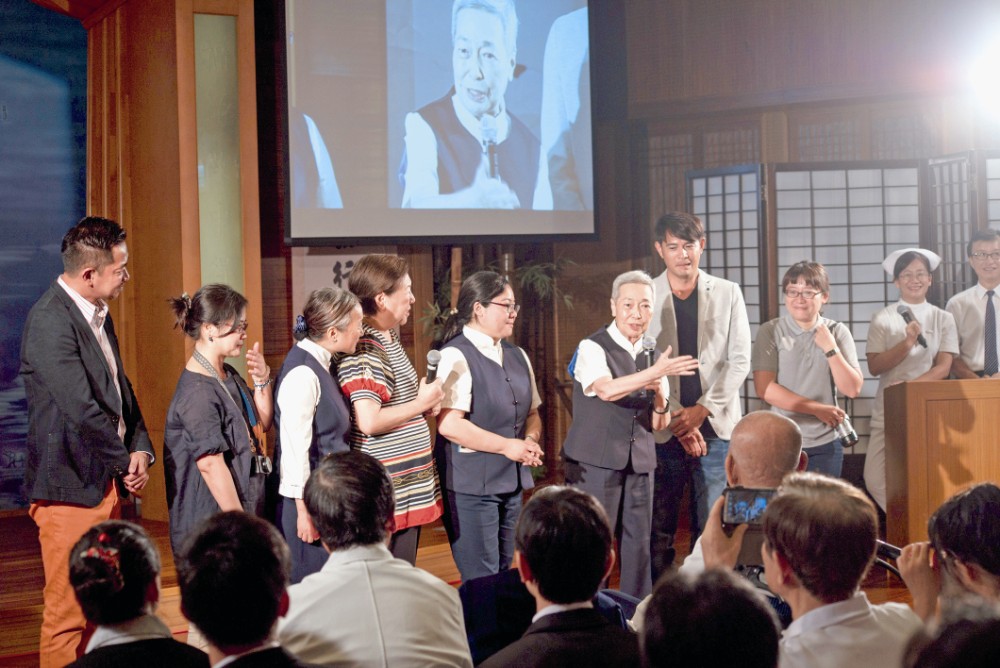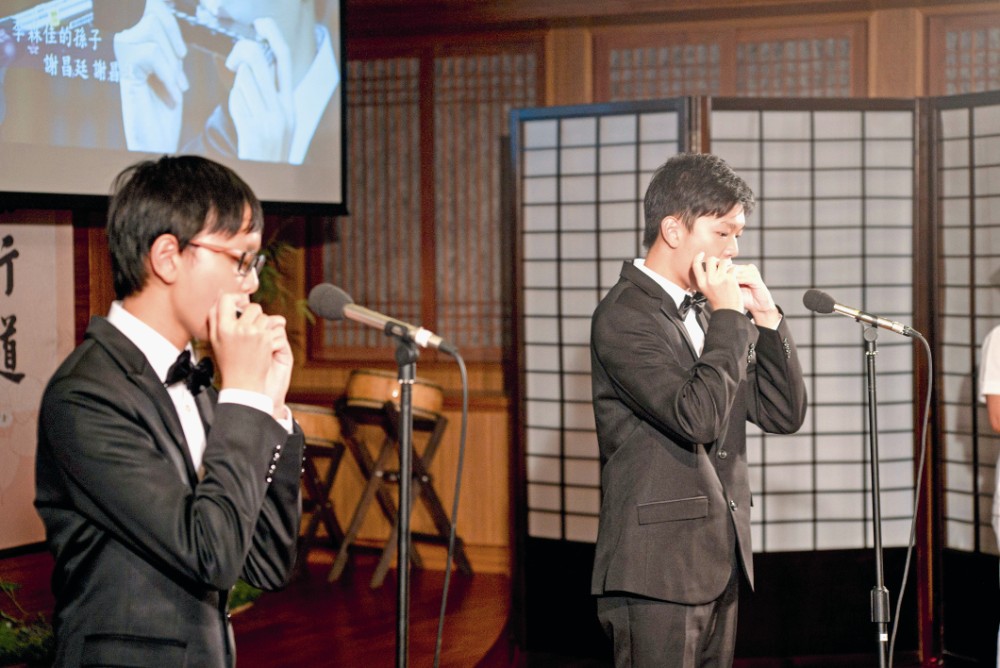 Dr. Li's grandchildren, Hsieh Chang-Ting and Hsieh Chang-Hung, played, in harmonica duet, the song Still Mountains Stand Gracious in dedication to their grandpa's contribution.
A Veteran Surgeon's Journey to the East
On August 11, the Sutra Lecture Hall of the Yuli Jing Si Hall was flooded in by a crowd of more than 300. The crowd were coming to a rendezvous with Dr. Li Sen-Jia they respected to thank him for his devoted service at Yuli Tzu Chi Hospital and to offer blessings for him as he was suffering the pains from the cancer that forced him to withdraw from practicing medicine. The concourse was hosted by Lin Jing-Wen (林靜雯), R.N. from Yuli Tzu Chi Hospital, and Dr. Li Yi, Secretary of Medical Affairs of Hualien Tzu Chi Hospital.
With the guard and support of his family from behind, Dr. Li walked upstairs to the venue at the second floor. The ceremony was kicked off at 7 p.m. by a Welcome Song performed by the Drum Band of Golden-Agers from the Yuli Fuqizhan (玉里福氣站), or Station for the Blessed.
In his opening remarks, Dr. Chang Yu-Lin, Superintendent of Yuli Tzu Chi Hospital, expressed his tremendous gratitude for Dr. Li. "The age of 70 should be an age to turn oneself into a self-indulgent sweet tooth and enjoy the pleasure of playing with their grandchildren. Dr. Li, however, took great pleasure from his retirement in working with TIMA to provide free medical care to the rural and remote areas. His decision to be back to the medical front line by joining us to quench our thirsty for surgeons at a high age had brought governmental officers from the Health Department to our hospital with regards to list him as a registered surgeon. Considering the drought of surgeons in rural areas such as Yuli and its mountainous neighborhood, a veteran surgeon like Dr. Li is an unexpected gift we could have never dreamed of to the hospital. We can never thank him enough for his timely act of generosity and devotion over the years."
Ms. Huang Ling-Lan (黃玲蘭), Mayor of Fuli Township (富里鄉), the most southerly township of Hualien County, shed her tears of appreciation. She thanked Dr. Li for bringing medical care to the the southern neighborhood of Hualien. She went on by mentioning that despite his age and ailment, Dr. Li made house calls to a patient with a horrendous wound that exposed the bone. She turned to Dr. Li and said, "I am a native daughter of Yuli. You are a doctor of virtues and a role model for medical practitioners. Out of the abyss of your cancer, despite it being terminal, you've strived to take good care of the patients you are most worried about. Words cannot express my gratitude and appreciation. I salute you with this deep bow on behalf of my fellow township citizens and myself. About a year ago, my elder brother died of lung cancer, too. Even though Yuli Tzu Chi Hospital was in lack of a hospice ward, still you managed to provide him with the best medical and warmest care to bring him a peaceful and dignified death."
Chung Teh-Hsun (鍾德勳), Head of Yuri Precinct of Hualien County, thanked Dr. Li for help in launching a health and physical fitness program following the deaths of two of his colleagues from sudden heart attacks.
Dr. Yeh Tien-Hao and Dr. Hong Hong-Dian, both of whom used to be Dr. Li's colleagues from TIMA in Kaohsiung/Pingtung region, sent back their wishes from Guizhou (貴州) of China, where they were on a free medical care mission trip. They recalled that for all the fact that Dr. Li had moved to Yuli, he would manage to participate in free clinical services organized by Kaohsiung/Pingtung TIMA. He is a role model for all the TIMA professionals in Kaohsiung/Pingtung area to follow.
Like patients, staffs had regarded Dr. Li as a grandpa. They loved him so much that they nicknamed him GranD, a nickname for both Grand Dada and Grand Doctor (Li). Ms. Chiang Wen-Chen (江文珍), R.N. and paramedic to Dr. Li, gave him a hug before speech. "I have been working with Yuli Tzu Chi Hospital for nine years. I thank him for being willing to serve for Yuli. Dr. Li was always smiley, and on the way back from house calls, instead of a reprimand for being slow or any possible mistake, he would disclose the tips for wound care, especially the tips for how to change bandage on a wound. I am grateful for having such fond memories with him. Each and every time when GranD was back from Kangshan to Yuli, he'd bring fruits he grew and the local produce and delicacies for the staffs to taste. May he have peace and safe in the days to come." Ms. Chiang's sharing was followed by a dozen of nurse staffs singing the song A World of Love (人間有愛) to express their love toward GranD.
Following the song was the dance When Nostalgia Strikes (思想起) performed by a score of golden-agers from Sanmin Fuqizhan (三民福氣站). The performers were dressed in the Hakka fabric that featured bright floral design on the crimson, a.k.a. Hakka Red, ground. Their vigor and agility were an astonishing sight to behold. Even more astonishing was the disclosure of a fact. The audience was caught amazed when they were told that among the performers was a madam, who was 97 of age. The golden-ager performers concluded their performance with a group wish by shouting, "Dr. Li, we love you. Cheer up!"
The Lift of Love's Horizons
See you on TV
Madame Susan Yeh (葉樹姍), Deputy CEO of Tzu Chi Culture and Communication Foundation and Director-General of Da Ai TV, came all the way from Taipei to pay tribute to Dr. Li for his devotion. "Dr. Li makes the ultimate use of his cancer-defying body to teach us what a diamond-willed devoted doctor is like." She turned to Dr. Li, bowed, and continued. "The life of Dr. Li has touched the body and soul of many a patient he treated and cured in his medical career. His altruism story aired through Da Ai TV definitely will move the human heart and inspire many a soul from the audience to pursue in his wake the horizons of love he has lifted. We feel grateful for his life story. It enriches the contents of Da Ai, and empowers the human mind with unflagging love and determination."
After the trailer of Love's Horizons was played, the docudrama of Dr. Li's life story premiered on Da Ai TV on Aug 16, actors Chiang Chun-Han (江俊翰) and Huang Yu-Rong (黃玉榮), who played the doctor brothers, Li Sen-Jia and Li Jin-San respectively, came to meet the figures they played in person. Before Mr. Chiang started, he asked for the permission to hug Dr. Li. He then recounted why he decided to accept the offer to play the figure. He said that he had suffered a health issue (we later learned that it was hepatic aneurysm) after the chronic deprivation of sleep in shooting soap operas. He was thinking not to take the offer. He changed his mind when he read the script of the drama. He shared his opinion and said, "There are too many in the world in need of help. The gesture of a mere act of caring is likely to change their life. I was deeply touched during the whole shooting process of Dr. Li's life story." Mr. Huang said that being a rural son from Ruishui (瑞穗), a mountainous township to the north of Yuli, he could still feel the pains of inaccessibility to medical care and the loss of life it brought."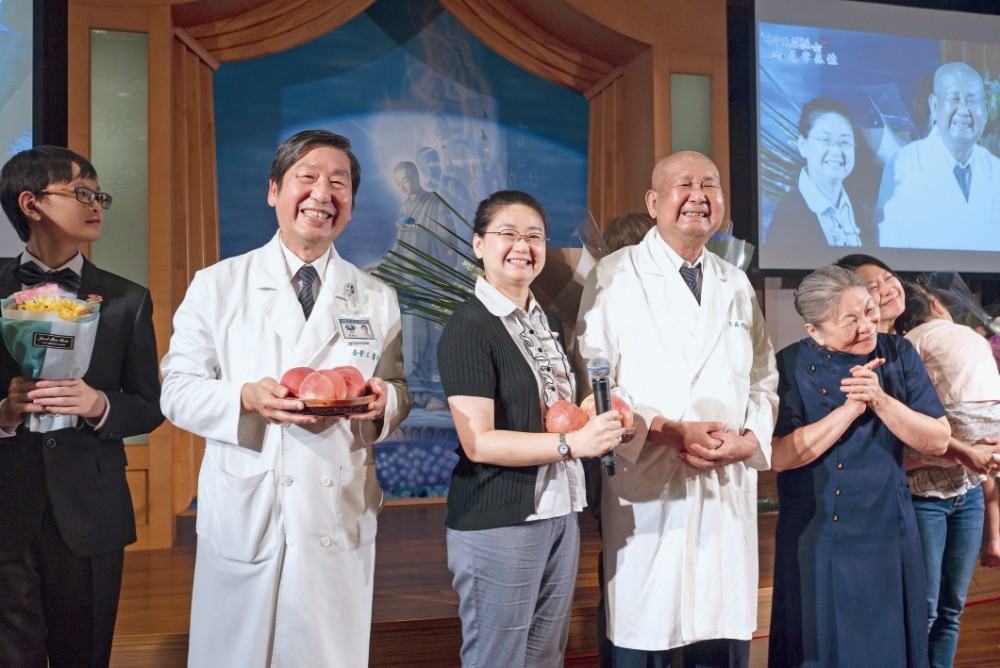 Li Meng-Ling, the eldest daughter of Dr. Li, expressed her respect toward her father and wished to follow his wake of doing good deeds; she hope that her father will be proud of her.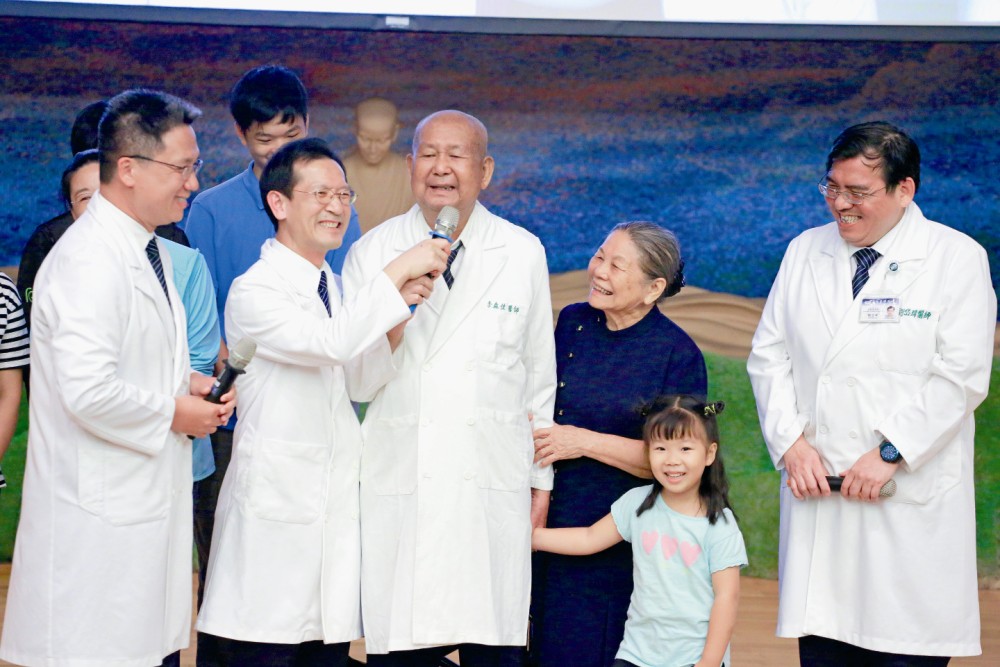 Dr. Li, Sen-Jia and his family went to Hualien Jing Si Hall to celebrate the 31st Anniversary of Hualien Tzu Chi Hospital. [Photographer: Hsu, Jung-Hui]
A Doctor that Travelled Ten Thousand Miles
Sounds of sobbing and whimpering were heard from the audience when the video of Dr. Li's last house calls with the IDS team at Yuli Tzu Chi Hospital in the company of Dr. Hong and Dr. Yeh from Kaohsiung was played. Over his 8 years' work with Yuli Tzu Chi Hospital, Dr. Li had made 2116 house calls, accumulating a stunning total number of 13087 patients treated. He had also participated in 368 IDS outings and served 2358 people in total in the Yuli neighborhood of Zhuoxi, Ruishui and Fuli. He had travelled more ten thousand miles (ca. 18400 kms in total), a distance that would circle Taiwan for 16.2 times. All the aforementioned achievements were made after Dr. Li's coming back from his 7 years' retirement to work with Yuli Tzu Chi Hospital at a high age of 72, and amid the pains when he fought against his own cancer.
See You Again, Papa
Mr. Shi Rong-Lai, who appeared in the documentary, was wheeled out at the gathering. He was among the patients that Dr. Li was worried about and wanted to see the most in his last house call outing. He thanked Dr. Li through encouragement and a sincere hope. "Papa, I am not drinking any longer." Mr. Shi reassured Dr. Li and added, "Be strong. Do have the strong heart that you encouraged us to have to fight against the disease. We all look forward to your coming back."
In Your Wake We Sail
Dr. Li Jin-San, who was convinced by GranD to join Yuli Tzu Chi Hospital in 2011, shared his fond memories he had with his eldest brother with the audience. "I am 12 years younger than my big brother. We were born and grew in different generations. His is Silent Generation, and mine, Baby Boomer. As the Chinese saying goes, 'The big brother is like a father.' He took the best care he could of me. He was the one who saw me to my first day at the elementary school. He paid close attention to the education of his younger brothers and sisters when he was out of town working his medical degree." Dr. Jin-San shared not only his fond memories with his big brother, but he also shared the pains of fighting against the cancer. A while ago, he was diagnosed with a stomach cancer, and was treated with an operation. He could feel the hardship his elder brother had gone through in the chemotherapy, and the courage to maintain a normal life treating the patients.
Toward the end of the blessing meeting, Dr. Li's grandchildren, Mr. Hsien Chang-Ting (謝昌廷) and Mr. Hsien Chang-Hong (謝昌鴻), offered their wishes for their grandpa. The duo played the song Still Mountains Stand Gracious (青山無爭) in harmonica as a tribute to symbolize Dr. Li's towering stance in constant silence while giving his unflagging grace to comfort the poor and the ill. Dr. Li's younger daughter, Meng-Fang, sang the song The Moon Represents My Heart, to express her love toward her father. Madame Lu He thanked the Hospital and Tzu Chi for arranging such a meeting, and for everyone who came to bless Dr. Li. Dr. Li's elder daughter, Ms. Li Meng-Ling (李孟玲) was a calligrapher. Each year, she'd came to Yuli Tzu Chi Hospital before the Chinese New Year. She brushed the impromptu couplets at the Hospital. For the donations she received for her calligraphy work, she donated them back to Tzu Chi. She said, "My father is great. I cannot keep up with his pace. The only thing that I can do is to follow him in doing good deeds. There is no way that I can surpass him. All I can do is try my best and hope that I can scale one percent of what he achieved so that he'd be proud of me."
Awesome! Oh, some!
"Dad, you are awesome," said Meng-Fang in Taiwanese to her father, Dr. Li. "Oh, some(what)!" replied in Taiwanese Dr. Li in his hallmark shy smile. The familiar tête-à-tête between the daughter and her father had turned the audience's tears into laughter. Meng-Fang thanked everyone that came to give his father their blessings. "Thanks to all of you, I've come to know what my father had achieved. The images and recordings mean so much to my father as well as to the family members." Upon the completion of Ms. Li's gratitude speech, Madame Susan Yeh, with knees slight bent, and her body leaned forward, offered a basket of apples and peaches as a tribute on behalf of Master Cheng Yen to wish Dr. Li the best. The apple is a symbol of promised safety, and the peach, the legendary wonderland of peach blossom portrayed by the poet Tao Yuan-Ming (陶淵明) of the Jin (晉) Dynasty in the 5th century; here the peach symbolized the horizons Dr. Li had scaled in his life to the seeking of a wonderland free of poverty and illness for the needy.
We Are a Family
The rendezvous with Dr. Li was concluded with a chorus of A Family (一家人). The host and hostess, Dr. Li Yi and Ms. Lin Jing-Wen, asked Dr. Li, "Let's continue to work as a family, shall we?" "Deal. Work as a family." Dr. Li promised without hesitation.
A Shy Surgeon Speaks Loud in Action
The next day, on Aug 12, Dr. Li arrived at the celebration ceremony of the 31st anniversary of Hualien Tzu Chi Hospital held at the International Conference Hall of Jing Si Hall at Hualien. He was wheeled and accompanied by his family, and doctors and staffs of Tzu Chi Hospitals, among whom were Superintendent of Yuli Tzu Chi Hospital, Dr. Chang Yu-Lin; Deputy Director of Cancer Center, Hualien Tzu Chi Hospital, Dr. Liu Dai-Wei (劉岱瑋); cancer patient management specialist, Ms. Lin Ying-Hui (林英惠); and Chief Nurse of Chest Medicine wards for hospitalized patients, Ms. Chang Su-Wen (張素雯). Dr. Li was seen to stand from the wheel and walked by himself onto the stage, step by step at a slow but steady pace. "I am Li. I don't talk much. I [am] shy. I talk [with] difficulty and stop a lot. I shy [away from] talk and let others do it." In the labored speech, one could easily notice the impact of the spread of cancer cells to the brain, which had hampered Dr. Li's language abilities. Dr. Li's perseverance had touched the audience and brought the sympathetic tears from them. Dr. Li's course of fighting the cancer and maintaining a regular medical care service had spoken loud for him as a role model humane doctor who prioritizes the health of his patient above his own pains, if not life.
In a footage from several years ago, Dr. Li expounded the belief that guided his practice of medicine throughout the life, "The ethics is of the upmost import to us as a doctor. The saving of life is above all else. To save many a life is an unforgettable delight." Dr. Li's bucket list had been realized through the coordination of his family, friends, colleagues, patients and the many ones who have been touched by his altruism. With the air of Love's Horizons, the docudrama of Dr. Li's life story, on Da Ai from Aug. 16 throughout to Sep. 14 in the evening, Dr. Li's life has touched still many others to seek, and move beyond, the horizons of love he had chartered.
At 7:25 in the morning on Sep. 15, ten hours after the finale of Love's Horizons was aired, Dr. Li Sen-Jia forsook his wreck body that could no longer bear the lightness of a breath in the hospital bed of Kangshan. Moments later, he was ready and embarked on a journey he'd travelled over the past more than 7 years. The van that carried Dr. Li's body made one last round circling Yuli Tzu Chi Hospital, where he had devoted the last chapter of his life to, en route to Tzu Chi University. The hearse arrived at the Great Giving Hall at the Medical Simulation Center of the University at around 2:15 p.m., where Dr. Li will rest in temporary peace before coming back as a silent mentor in March 2018 to further medical education and science for a lifetime's perfection of a philanthropist doctor.